In a week very similar to last, venture capital money was heavily focused on backing new funds as opposed to investing in projects. Projects raised a total of $600 million, with CeFi projects getting the biggest share of the pie at $197 million. Infrastructure and DeFi followed up at $122 million and $111 million, respectively. Web3 and Metaverse/Gaming both raised $73 million, and NFT projects came in last with just $24 million.
In the retail investing world, we pad our bank accounts in anticipation of a market downturn. In the venture capital world, they pad each other's funds. There were five new funds that finished raising, the biggest cat on the block being the famous $4.5 billion fund from a16z. The other funds raised $255 million collectively, bringing the total to $4.8 billion. Over the past month or so, new venture funds have been significantly outraising actual projects, indicating that investors and LPs have been using this time to build up war chests while still moving money instead of just sitting on cash.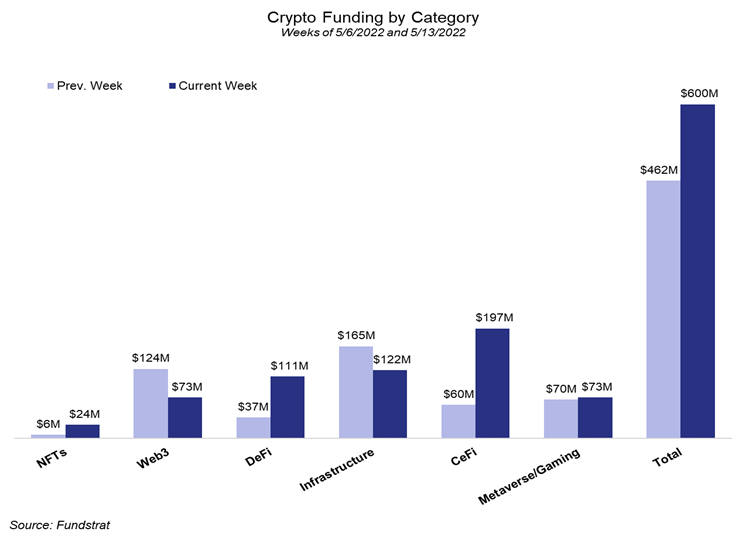 ---
Deal of The Week
StarkWare is the developer of the StarkEx zero-knowledge (ZK) rollup engine and the StarkNet Layer 2 for apps or companies to use Ethereum more efficiently. The team raised $100 million in a Series D that quadrupled the company's valuation to $8 billion. The funding round was co-led by Greenoaks Capital and Coatue, with Tiger Global, Paradigm, Three Arrows Capital, and Sequoia Capital.
Why Is This a Big Deal?
Ethereum has long had an issue with scalability of its gas fee structure. While the second largest blockchain is still a Proof-of-Work chain, gas fees can often hit double digits for settling a transaction on a decentralized exchange, let alone computationally intensive actions like Web3 video streaming, NFT minting, etc. Fortunately, Layer 2 technologies like StarkNet have the ability to perform the computational aspect of smart contract execution off-chain, leaving the cost of smart contracts at a simple money or data transfer on the Ethereum base layer. For the one-two punch, L2 rollups also bundle those simple transfers in order to save even more money on Ethereum gas fees.
StarkWare is one of many Ethereum L2s, but their platform has seen strong adoption and growth since inception, even through this current bear market. The company was founded eighteen months ago, and its StarkEx engine has already processed over $600 billion in transactions. The company has also been focused on building its StarkEx engine to be readily integrable into apps' backend, making the app cheap and the backend technology readily usable for developers. In a bear market that just saw a month of 48% losses, one of the biggest blockchains implode, and an uncertain macroeconomic outlook, StarkWare was still able to quadruple its valuation within three months. (Ethereum Scaling Company StarkWare Quadruples Valuation To $8 Billion Amid Bear Market)
---
Deals & Fundraising
Please see below for the full list of deals
---
Crypto Deals & Fundraising
---
Crypto Funds and Ecosystem Raises