Thursday's reversal looks important technically as a bullish development which can carry US Equity markets higher into the middle part of May. While some might question the viability of this week as being a breakout, a weekly close above SPX-4137.63 represents the highest weekly close since last Fall.
Furthermore, QQQ has also closed at the highest levels since last August. While Technology has some work to do to recover some of the damage it's experienced in recent weeks, Large-Cap Technology can still pave the way for the next couple weeks.
Healthcare, Discretionary and Energy also look like sectors which can show above-average performance into the month of May. Healthcare in particular which broke out last week relatively speaking to the SPX, is heading into a very seasonally bullish time.
Thursday's reversal happened not just for Equity markets but also Treasury markets and the US Dollar. I expect that over the next 3-4 weeks, Treasuries and the US Equity market should advance, while the US Dollar pulls back to new lows.
However, this move likely will face some initial headwinds into next week's FOMC meeting. I expect that Monday/Tuesday might face some resistance and provide consolidation. However, pullbacks should likely find support near 38.2%-50% of the prior advance from this week before pushing back higher.
As seen below, S&P is up near mid-April highs. While SPX very well might experience some near-term "stalling out" between 4165-4200, I do not expect 4050 to be broken on any pullback, and then should rally up to 4250-4312 into mid-May.
This area should prove to be far stronger resistance on any rally into mid-to-late May, and likely will likely cause a stalling out and reversal in stock indices into June.
Finally, this stock market advance should result in sentiment turning far more optimistic over the next three weeks, and should be something to keep a close eye on in mid-May.
SPX daily chart is shown below with prices having risen to challenge resistance, which I expect should prove temporary only.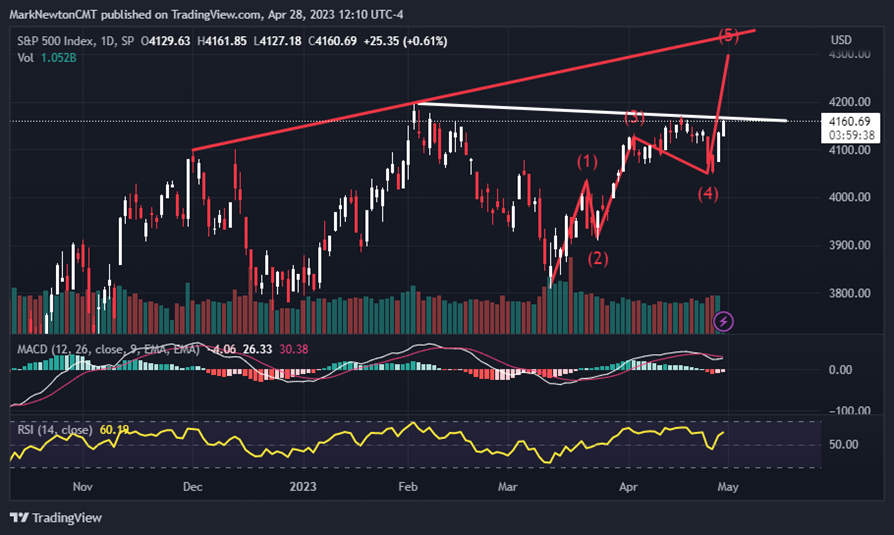 QQQ rally likely reaches 428
Similar to SPX, QQQ has made an impressive breakout which likely carries this up to 428.
Daily DeMark indicators are premature in showing any type of exhaustion on most timeframes, with daily charts showing at least another 4-6 trading days before a possible top.
However, in the near-term, heading into next week's FOMC meeting, prices likely stall at 323-324 in QQQ, retrace back down to 316-317 before pushing back higher. Hourly charts show a five-wave advance in progress from this week's lows which looks to be in its final stage on an hourly chart.
Overall in the bigger scheme of things though, pullbacks next week should prove minor and buyable for rallies into mid-May. The daily Symbolik chart shown below highlights a clear technical breakout which looks important and positive.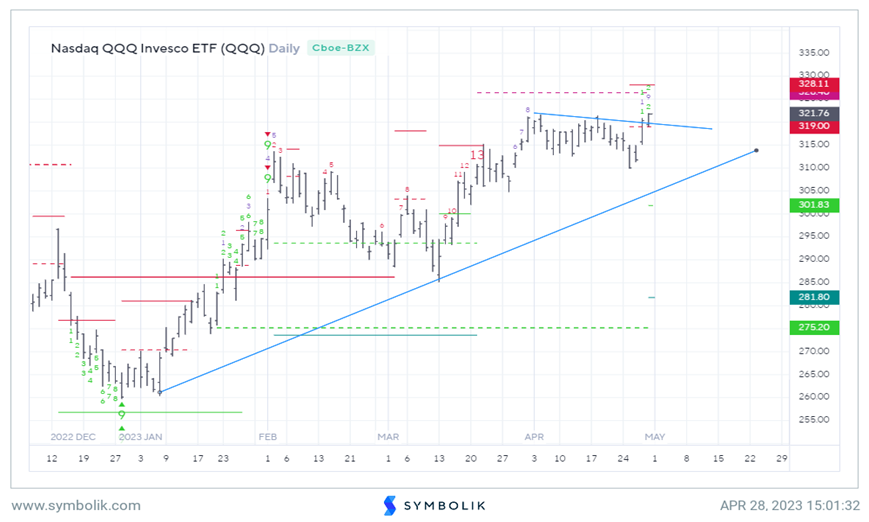 US 10-Year Treasury yields look to be reversing back lower
Daily charts of TNX show the early week advance attempt to have stalled out and having made a clear turn back to the downside, directly coinciding with ongoing downtrend line resistance.
Given that cycles show a decline possibly lasting until late May/early June, I anticipate that yields break recent lows near 3.25% on their way to 3.15% and even 3.00% before finding support and turning higher in June.
TLT likely can push up to challenge April peaks at 108.87 and above that allows for upward acceleration above 111.
Overall, this looks like a time to be long Treasuries and also long Equities over the next few weeks.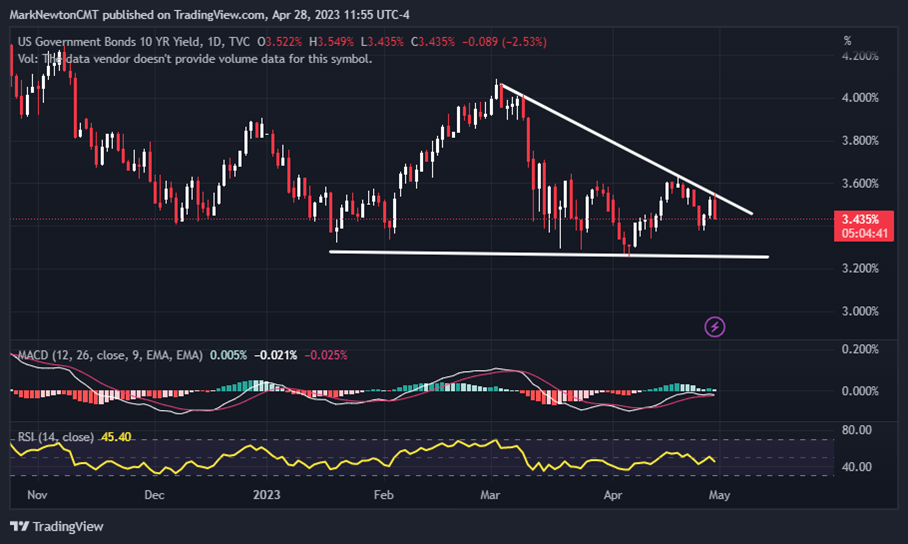 German Bund yields also breaking down. Movement lower to 1.85% and lower possible in May
This decline in yields looks to be happening in European sovereign yields also and German 10-Year Bund yields have cracked key support and should move lower in the weeks ahead.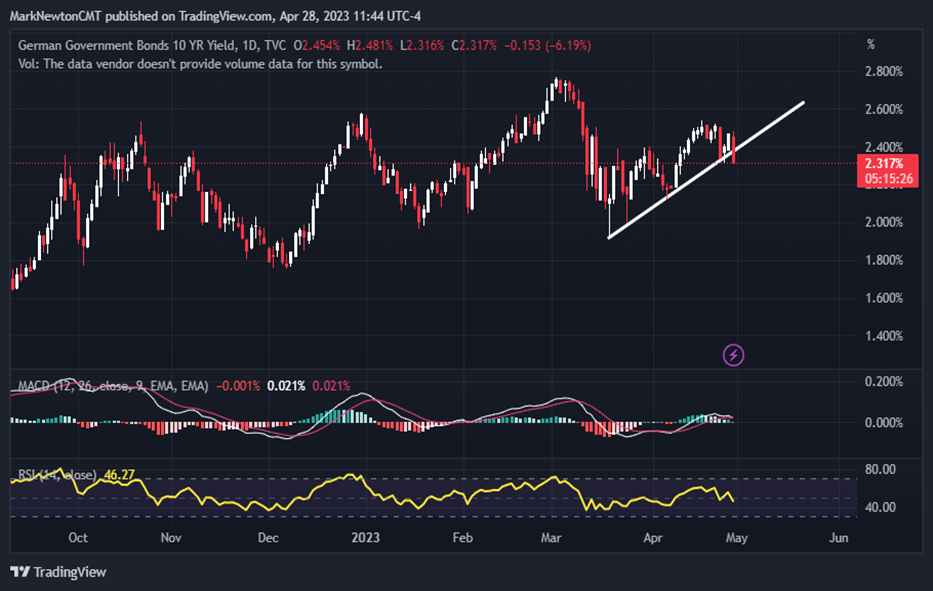 Technology should rally to challenge resistance from recent breakdown
While markets look quite positive after this week's breakout, it will be important to see Technology come back following the recent breakdown. $XLK strength looks far different at the present time than the Equal-weighted $RYT which broke down last week from its lengthy uptrend and now faces a tougher hurdle heading into next week.
While $XLK and $RYT should both rally in the days ahead, failure to recoup $RYT-264.42 would be a technical negative and might result in Technology slowing down and not performing as strongly as other sectors like Energy or Healthcare, the latter which is entering a strong seasonal period.
Bottom line, while QQQ and XLK have made a clear trend breakout this week, the move in Large-Cap Technology has largely disguised some of the weakness being seen in the broader Technology space, which I discussed earlier in the week.
Specifically, Semiconductor weakness looks important and a sub-industry of Technology which has not shown the same degree of strength as Tech Hardware and Large-Cap Tech behemoths like $AAPL, $MSFT, $GOOGL and $META.
Daily $RYT chart below shows the rebound attempts in Equal-weighted Technology which could face some hurdles into next week.