Despite the rally over the last four of five weeks for SPX, it sure hasn't felt like it lately !! SPX has largely ground sideways, with Monday's 4137.03 close being less than 13 points away from 4124.50 from 4/3/23, the first trading day of April. That's 0.003% higher, or largely unchanged.
As discussed, the deterioration in Large-cap Technology has been responsible for much of this stalling out, while the rebound in Healthcare, Financials, and Materials, not to mention Consumer Discretionary have had a much lesser positive effect on US Equity indices.
Breadth has surely contracted, as per the waning Advance/Decline line in the last week and fewer stocks above their 20-day moving average. Yet stock indices have not weakened enough to think any sort of pullback into May is upon us.
Unless 4113 is broken on a closing basis, which would likely take SPX down to 4069 and then 4040, (and even then, it would be difficult to call a top) trends are bullish and there still stands an excellent chance of a rally into early May.
Bottom line, those concerned with short-term performance should eyeball 4140 on the upside and 4113 on the downside. If either one of these levels is broken, then SPX will follow-through accordingly. Until then, it's hard making too much of a strong directional case in the near-term.
One should study the outperformance in Defensive groups, along with Homebuilders and Medical Devices names within Healthcare which are showing some of the best near-term performance at a time when most investors seem preoccupied with Tesla ($TSLA) which has been trending down since February.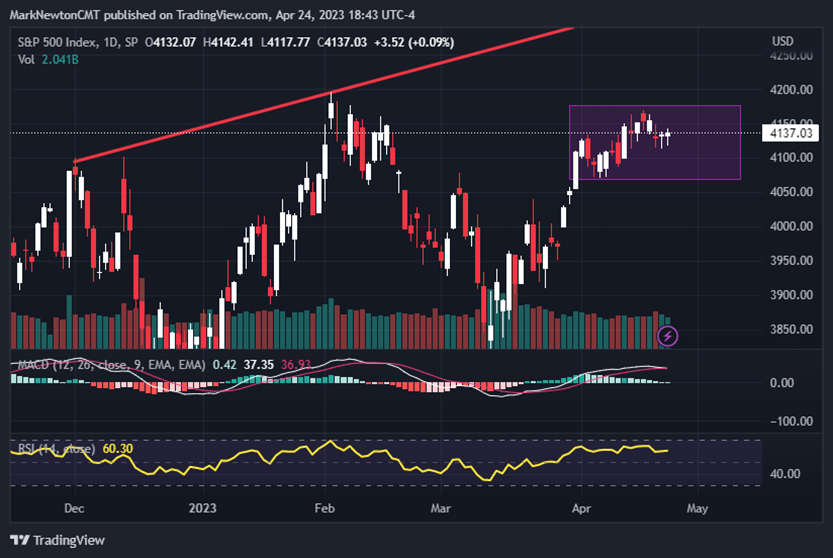 Defensives clearly outperforming over past few months
Interestingly enough, looking at performance on an Equal-weighted basis illustrates a few key points that are worth reiterating about the SPX as April slowly comes to a close.
Namely, over the last three months, only four sectors have positive returns: Consumer Staples, Healthcare, Utilities and Technology. (Tech's ranking is far below what it shows based on $XLK performance using cap-weighted sector performance)
Overall, this is quite defensive when stripping out the largest names per sector and viewing performance on an Equal-weighted basis. Furthermore, it should be cause for a bit of concern for Market bulls on a very near-term basis, meaning the next 4-6 weeks unless this can be rolled back nearly right away.
This is one of the first occasions of true Defensive dominance since this occurred in late 2021 as stocks were beginning to peak out.  Bottom line, Technology needs to come back right away (and might be able to do just that, as the chart at the end of this report shows).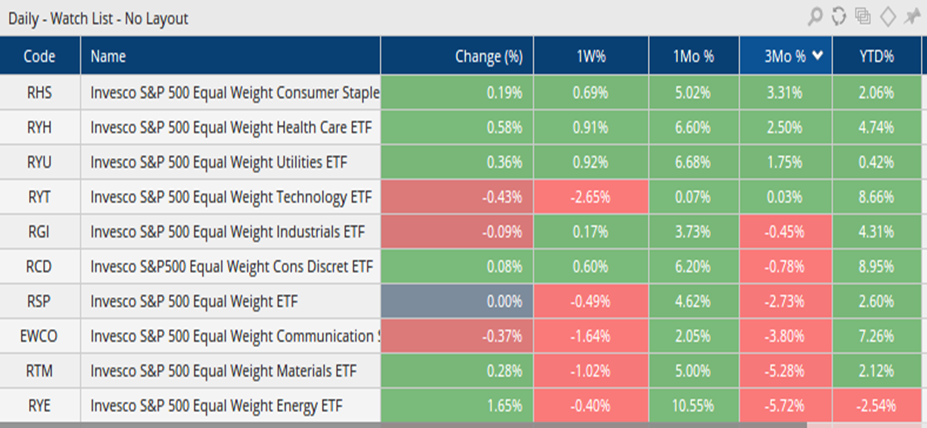 Equal-weighted Healthcare shows more convincing signs of breaking out
Movement into Healthcare looks wise technically following this sector's continued progress vs. S&P 500 on an Equal-weighted basis. (Those who follow XLV won't see this as being a breakout)
As discussed in the past couple weeks, this sector has shown notable progress by Medical Devices and Biotechnology, while Pharmaceutical and Life Sciences names have slowly but surely begun to turn back higher after a difficult few months. Healthcare Services has been the notable laggard. However, even this sub-industry group has begun to show some interesting signs of stabilization and rally in recent weeks.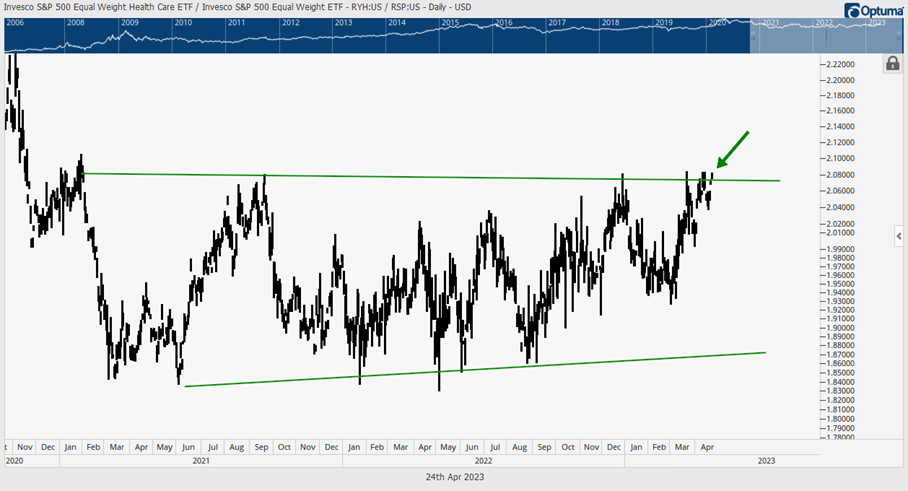 Equal-weighted Technology is nearing initial support
Despite the lagging in Tech over the past month, it remains difficult to be all that bearish just yet.
As equal-weighted Technology ETF's by Invesco show below, pullbacks in Equal-weighted Tech have neared important support, based on the mild uptrend from December 2022 lows, projected upwards.
Until/unless $260 is broken in $RYT, I suspect that Technology very well might have a bounce approaching which would catch most off-guard into either 5/3, or 5/16 before a more meaningful period of consolidation.