Note: I will be out of the office until Tuesday at my daughter's college graduation, but felt that Friday's price action is important and worth addressing.  Some brief comments and a couple charts below.  There will be no video today. Enjoy the weekend!
Friday's about-face for US Equity markets happened, coinciding with better than expected Economic data, but occurred at a key cyclical juncture that likely allows for a bounce back to SPX 4200 and above into mid-May.
9 of 11 sectors are higher by more than 1% at mid-day Friday (5/5), and Energy and Financials are both higher by more than 2%. The bounce in Regional banks looks important and positive.
While Technology has some "work to do" in order to reclaim recent technical damage, it's expected that Financials, Energy and Healthcare can likely outperform over the next 1-2 weeks. Despite Technology rising over 1% on Friday into mid-day, stocks like $AAPL and $MSFT look to have limited upside over the next 1-2 months, and it's expected that large-cap Technology likely does not outperform in the near-term.
As shown below, SPX held prior lows at SPX -4049 on a close yesterday (Thursday 5/4/23). Prior lows were undercut by 1 point, stopping out shorts before prices roared back. Friday's gains are happening on above-average breadth and look positive, and a technical development should lead higher to test and break out above 4200 briefly into mid-May.
SPX should push higher to test and break out above 5/1/23 intra-day peaks of 4186.92. Only if 4049 is broken on a close would this projection be wrong, and rally postponed.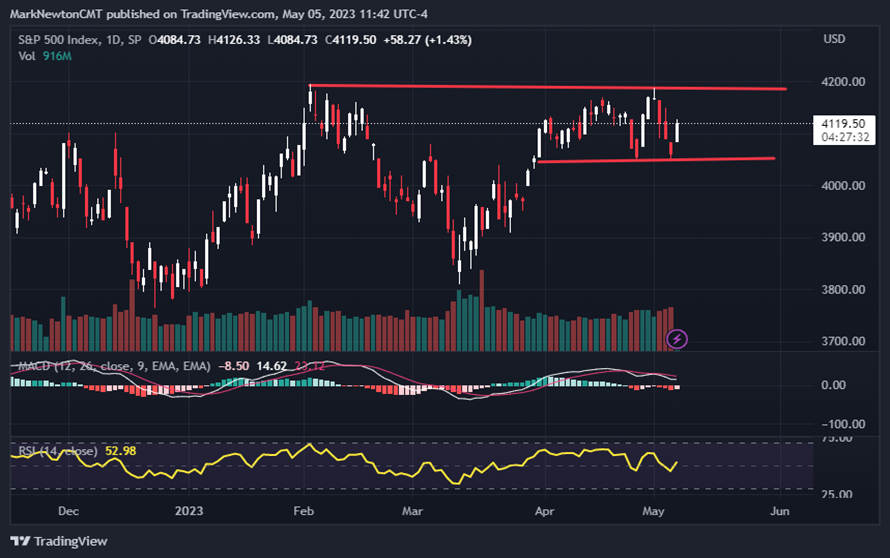 $KRE bottoming coinciding with DeMark exhaustion
Regional banks look to be putting in trading lows directly coinciding with short-term cyclical lows just as DeMark TD Combo "13 Countdown" signals are in place.
This looks important, and should drive prices up above $40.50 to test the area of the recent breakdown. ($40.68) This downside exhaustion happening Friday is coinciding with near-term oversold signals on $KRE (S&P Regional Banking ETF), and is thought to lead to an oversold rally in the group.
While Financials remain out of favor technically and not a group to overweight on an intermediate-term basis, given the combination of an inverted yield curve and their intermediate-term technical deterioration, it's thought that Regional Banks likely bounce into mid-May, and are carving out technical lows.
Rallies up to $40.68 are likely initially for KRE, and movement above that level might lead to $45 before hitting resistance.