Trend still bullish-  Expecting upcoming push back above SPX-4200
Trends remain very choppy and range-bound over the last month. However, the near-term trend from last week still looks bullish in my view technically. The Path of least resistance should still be higher and SPX should begin to push up to test and break out above SPX 4200.
Incredibly enough, all of the economic bad news and threats of debt ceiling impasse haven't done much to cause any meaningful downside technical deterioration, much to the dismay of many fundamentally oriented investors.  SPX lies just seven points (<1%) from where it traded one month ago.  This constriction of price action and volatility isn't expected to last much longer, but provides a solid rationale of why the VIX has trended lower over the last month.
As shown below, this choppy range has served to confound Bulls and bears alike, but hasn't offered much meaningful evidence of trending behavior. Areas to keep an eye on lie at SPX-4154, which if exceeded, should have little resistance until the all-important SPX-4200 level.
However, 4200 should not hold on a retest into next week in my view, and I expect an upcoming breakout which likely carries SPX to 4235-4250. This rally should happen coinciding with wave structure, cycles, and a lack of DeMark exhaustion at current levels.
On the downside, it will take a break under SPX -4050 to have concern about a selloff getting underway.  At present, this looks premature, and rallies look more likely into next week.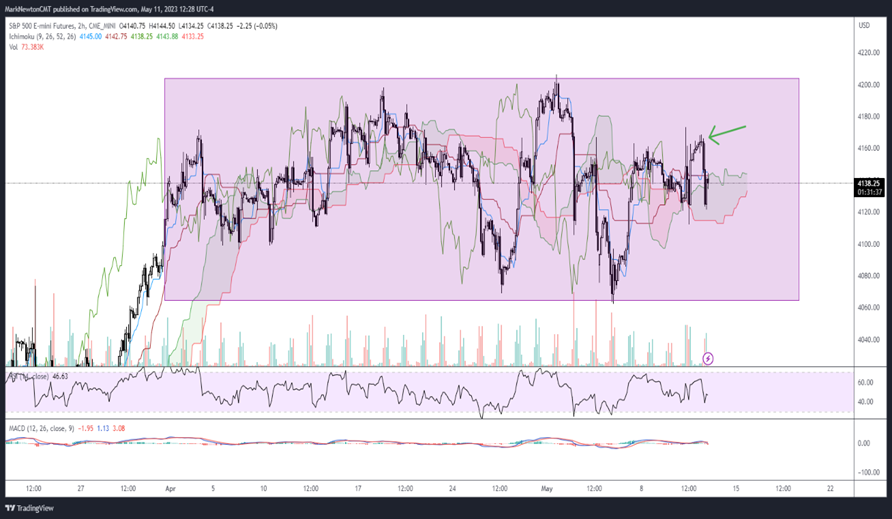 GOOGL's strength helps QQQ close positive; Additional gains likely into next week
Yet again, large-Cap Technology seems to be coming to the rescue, and GOOGL's breakout along with strength in stocks like $AMZN and $META were instrumental in helping QQQ outperform on Thursday.
While 10 of 11 sectors fell in trading on Thursday, it's difficult to see much weakness in the broader indices when large capitalization stocks like $GOOGL have broken out and are accelerating higher.
Near-term resistance lies at $125, or about eight points above Thursday's close. This level lines up near a 61.8% Fibonacci retracement of GOOGL's prior decline from late 2021. Additionally, this represents a 1.618% alternate Fibonacci projection of the initial rally off the January 2023 lows when projected from the late February swing low bottom.
However, moving above $125 might help GOOGL extend to $130, shown in the Green box on the MarketSmith chart below. That should provide a probable maximum upside target on gains into late May.
At present, GOOGL has broken out of its three-month Cup and Handle pattern on very good volume, and has managed to close near the highs of the day.  Thus, it still looks to push higher into early next week, and fading this move remains premature.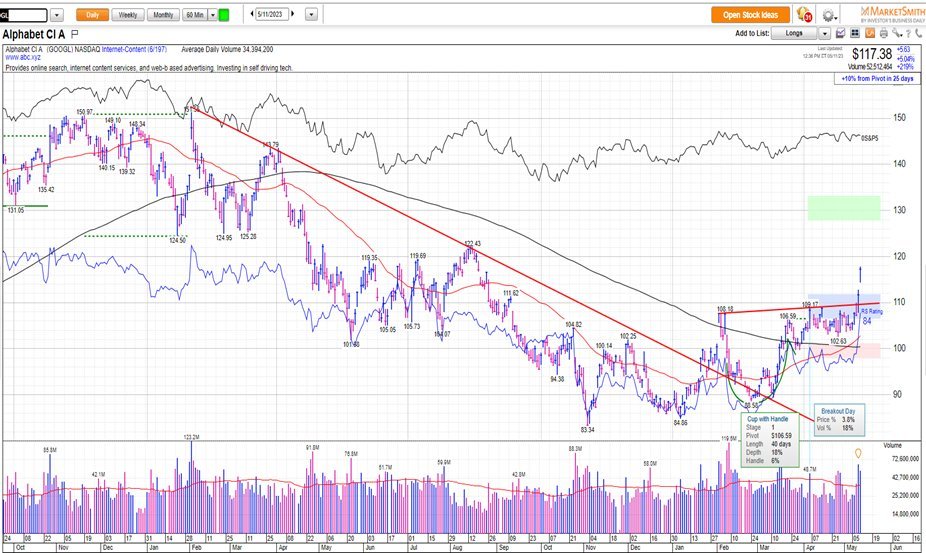 Copper likely nearing an important bottom by end of May
Copper's breakdown coincided with a similar breakdown in Silver, but both look attractive to buy dips in the next week.
Copper's larger intermediate-term uptrend from last Summer intersects just below current levels. Furthermore, a 100% projection of the current downtrend when measured from the initial top from early 2023 hits near $3.63 or just below current levels.
My copper cycle bottoms in late May and turns sharply higher for the balance of 2023 (not shown)
Overall, I suspect that weakness might last another 3-5 days only but should be nearing important intermediate-term support to buy dips. Weakness likely finds strong support at $3.50-$3.63 and stabilizes before turning higher.
Bottom line, the huge high to low range of Thursday's trading might require another couple days before stabilizing.  However, longs look attractive for a 6-9 month timeframe, and Copper looks appealing to buy dips on weakness into next week for those with intermediate-term timeframes.