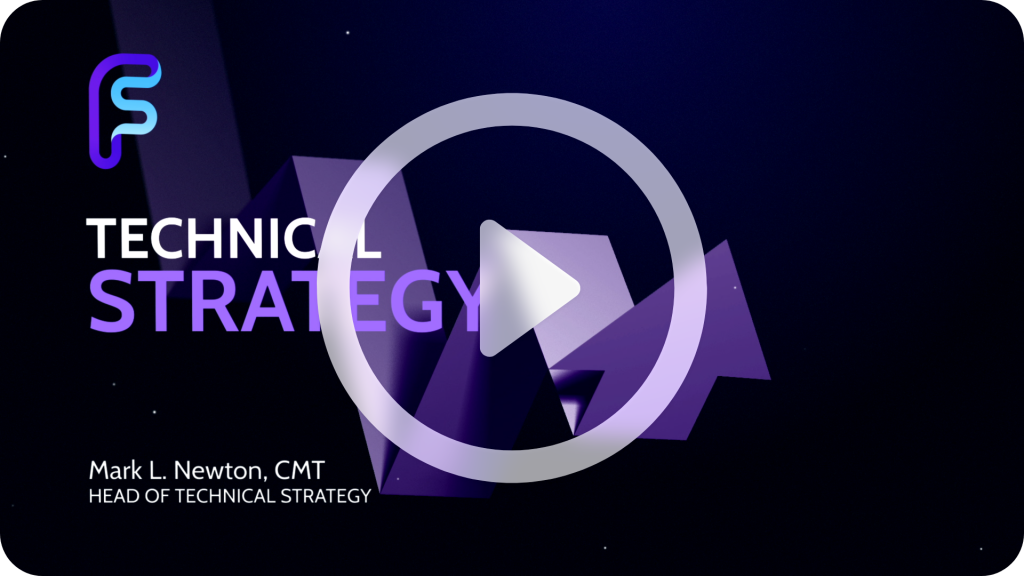 Trend still bullish, SPX is expected to push up to 4235-4275, before consolidation sets in; Under 4048 required to turn trend bearish
"It was the best of times, it was the worst of times" Charles Dickens opening to "A Tale of Two Cities" is appropriate for this market. In this case, " A Tale of Two markets" is more apropos.
Technology has roared back so sharply in the last few weeks that it's outperforming all other sectors on a one-week, one-month, three-month and Year-to-Date (YTD) basis.
Perhaps, surprisingly, Technology is the only Equal-weighted major sector that's positive in the last month. Invesco's $RYT is higher by 6.17% in the rolling 30-day period. Meanwhile, four equal-weighted sectors are lower by 4% or greater in the same 30-day stretch: Utilities, Energy, Healthcare, and Materials.
Equal-weighted SPX has actually fallen in the last three out of four weeks, diverging very sharply from SPX which has just made the highest weekly close since last August.
Divergences are growing: DJIA and DJ Transportation Avg are both well off early year highs. DJIA is lower by more than 1000 points from May 2023 highs, while DJ Transportation Avg is down nearly 2000 points, or more than 12% from the peak made in early February of this year, just 3.5 months ago.
Investor outcry about "poor market breadth" is increasing, and many Non-technicians have adopted this phrase, thinking it's the one technical piece of evidence that is now aligning with the macro and fundamental bearish backdrop that many see to make it clear that stocks are extended.
Yet, SPX and QQQ continue to rise. It's important to realize that these markets continue to be dominated by Large-Cap Technology. If this part of the market is trending up sharply showing no deterioration, then it has the power to carry Stock indices higher for reasons that many don't understand. As the popular phrase goes, "The trend is your friend, until it ends."
Overall, this US Equity market is eerily reminiscent of late 2021, when Tech rose sharply while most of the market started to flatten out.
However, barring meaningful evidence of Technology stalling out, and turning lower, uptrends like the current-day SPX and QQQ are incredibly difficult to fight.
Given the divergences and near-term overbought conditions in Technology, I'm inclined to view this "breakout" above 4200 as having an above-average chance of proving false given the various breakdowns in other areas of the market.
Yet, as a trend follower, I fail to see the point of continuing to mention poor breadth or overbought conditions as being a logical reason to avoid stock indices until they've demonstrated the ability to turn lower.:
My technical framework for the next four trading days of the shortened holiday week is as follows: It's right to stay long, expecting a further rise up to at least 4235 and potentially 4275 with a maximum gain to 4325. Until/unless 4048 is broken, near-term technical trends for SPX are positive. A violation of 4100 on a daily close would certainly be a warning. However, it will take a break of 4048 to turn the short-term trend to bearish.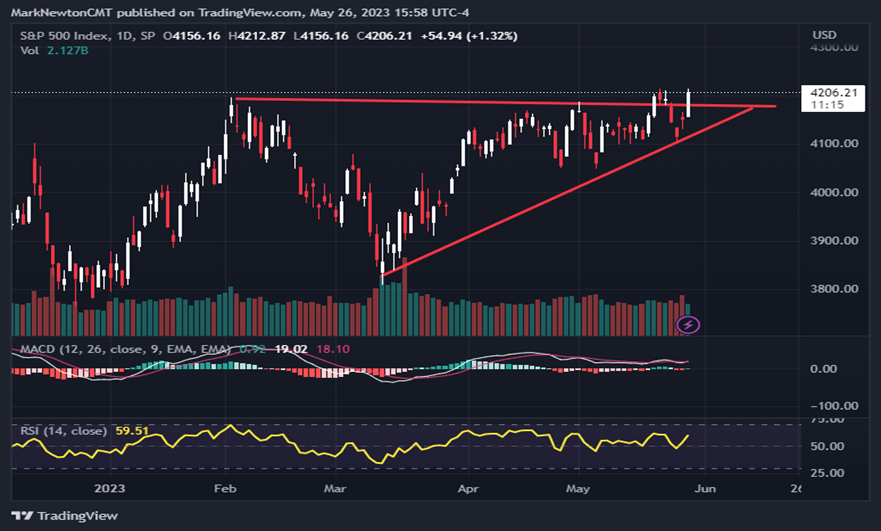 Equal-weighted SPX tells a very different story
This chart shows why it's been increasingly difficult for most sectors to keep up with the Tech-heavy SPX and QQQ in recent months.
Equal-weighted SPX has fallen for three of the last four weeks and three of the past four months since peaking in February of this year.
Until this downtrend line is broken, it's thought that the recent rally in SPX and QQQ might be susceptible to reversing course given the recent drawdowns in many sectors.
However, it's important to utilize trend analysis to watch SPX and QQQ, as these are most important. Adopting a bearish attitude solely based on Invesco's Equal-weighted S&P 500 ETF ($RSP) moving lower doesn't make much sense when indices are rallying.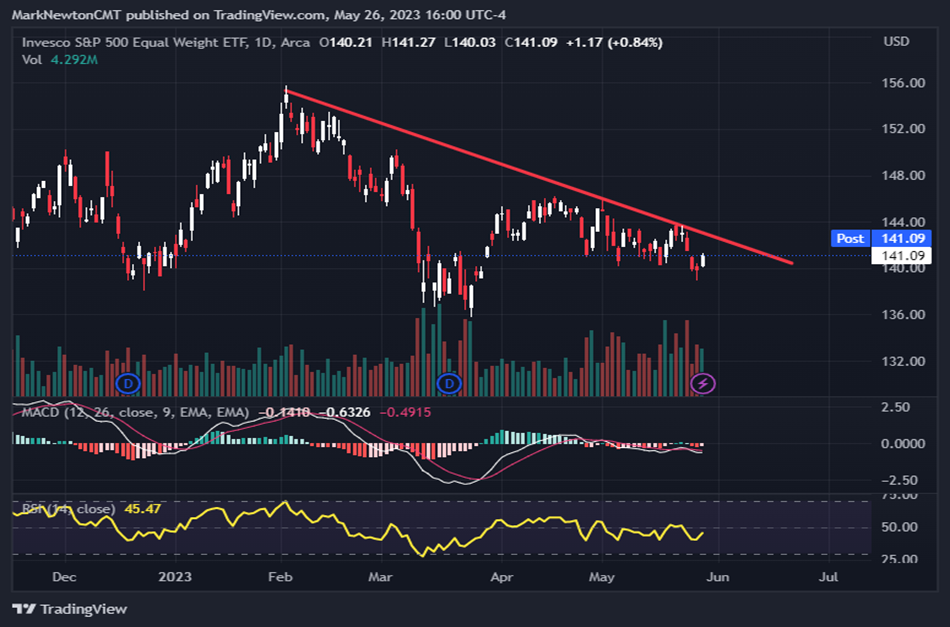 QQQ chart on Symbolik shows DeMark exhaustion having been stopped out on daily charts
It's important to relay that the upside exhaustion that was present last month on $QQQ charts for both a daily and weekly basis has been stopped out, allowing for a new count to get underway.
TD Combo "13 Countdowns" were present on daily charts while weekly charts had formed a weekly TD Sell setup right near TDST. In plain English, the combination of both daily and weekly exhaustion can normally result in trends stalling and/or rolling over.
However, as seen below, this time the signal was stopped out and QQQ has extended. Overall, until these signals start to line up again, it's difficult getting too bearish on QQQ based on DeMark methodology.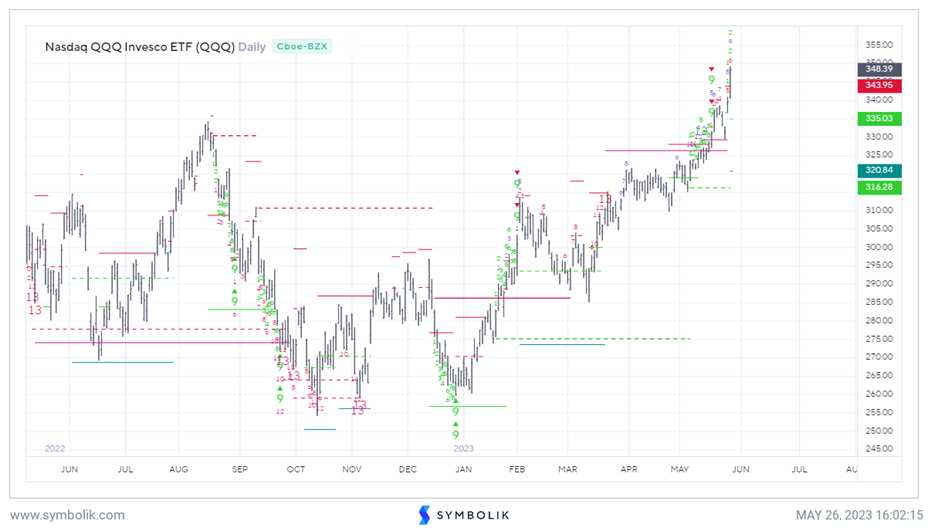 Equal-weighted Technology up to important levels
This surge in Technology has caused this sector to now outperform all other sectors this year, carrying Invesco's Equal-weighted Technology ETF, $RYT, up to important resistance.
This level on RYT lines up with February and also last August peaks from 2022. Any breakout of 282 on RYT would be quite bullish for Technology and likely postpone a correction, as Technology (as it's been doing in recent weeks) would be able to buoy the market in absence of strength from other sectors.
Thus, there's no saying that this recent divergence between Tech and the broader market has to mean revert right away. It is highly unusual to see such a blatant divergence. However, markets have shown throughout history that such divergences can often persist, particularly when investors start to mention the lackluster breadth repeatedly.
DeMark signals on QQQ are early to peak out, and this is one indicator (TD Sequential and TD Combo) which is normally important to see line up when markets are about to rollover.
Overall, RYT should be watched carefully next week for evidence of stalling out or breaking out. Each development would have importance as to how SPX behaves.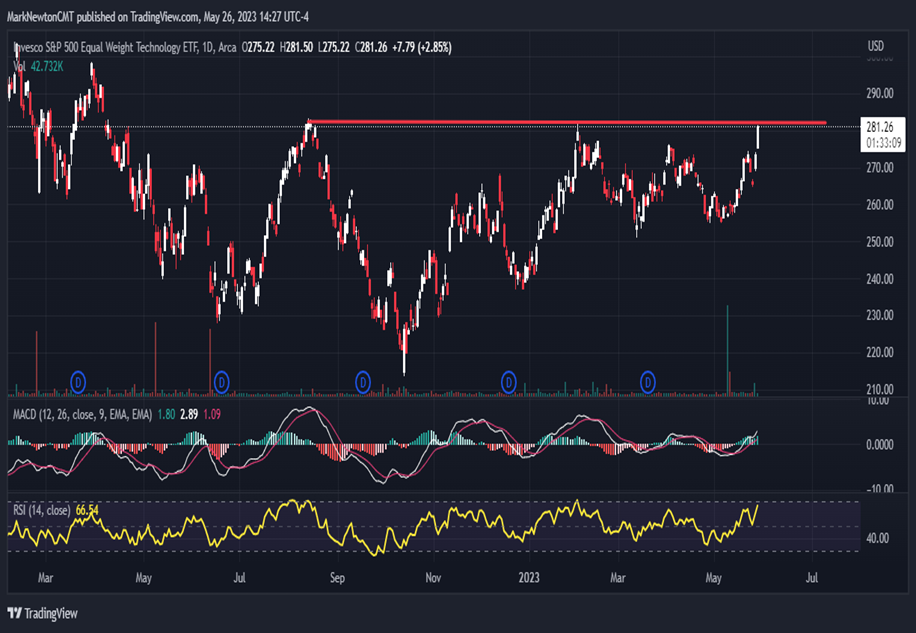 *Please note, there will be no daily technical strategy next week