I'm away at the 50th Annual CMT Symposium, a conference in NYC, today and tomorrow, so there will be no daily video, and my notes will be abbreviated.
Thursday's advance looks powerful and fairly broad-based, which looks to have put an end quickly to the recent selloff. The near-term improvement in short-term patterns should indicate that lows to this recent pullback likely are in place and will lead to brief new highs into mid-May.
Technology stocks like $AAPL, $META, $MSFT and $GOOGL have all shown constructive price action in failing to weaken too substantially, and have turned back higher. While stocks like $MSFT and $AAPL aren't the best intermediate-term risk/rewards at current levels, for the next 2-3 month timeframes, the near-term price action still looks to point higher, and might not reverse until late May. Upside targets for $AAPL could materialize between $171-176.
Moreover, NASDAQ 100 and Composite have both turned up in a stronger fashion than the S&P, but the wave structure suggests that lows are in place and a move back to new monthly highs is likely. While QQQ did not reach the desired 308 area from a risk/reward standpoint, the rally back now could extend up to 322 with eventual targets near 326.
While the decline failed to last into Friday/Monday, and turned up a bit quicker than planned, it happened during the key cycle date shown on my Optuma chart earlier this week, at the 4/26 date. The next key cycle date for this is 5/24, which should be given importance as a possible high on any extension of this rally. I'll be personally giving 5/16-20 an equal amount of importance.
As seen below, S&P has reclaimed the area of the recent breakdown, which lies at 4113 for SPX cash index and 4135 on S&P Futures. The act of getting back above this area solidifies this minor consolidation structure as being "corrective" in nature. Simply put, this gives a very high likelihood of a push back above mid-April highs.
As this hourly S&P Futures pattern shows below, the initial decline from 4/18 proved choppy and overlapping, while the secondary leg of this decline appeared to carve out a perfect 5-wave decline. Overall, getting back above 4135 suggests this is an Elliott-style ABC pattern and lows should be in for late April.
Initial targets lie near 4200, but over that could allow for a push up to 4250-75, helping S&P to close in on last August's peaks (4325-SPX cash). While next week's FOMC meeting could prove to be a temporary resistance spot to this push higher, I believe that Thursday's advance should signal the start of a move higher into mid-May.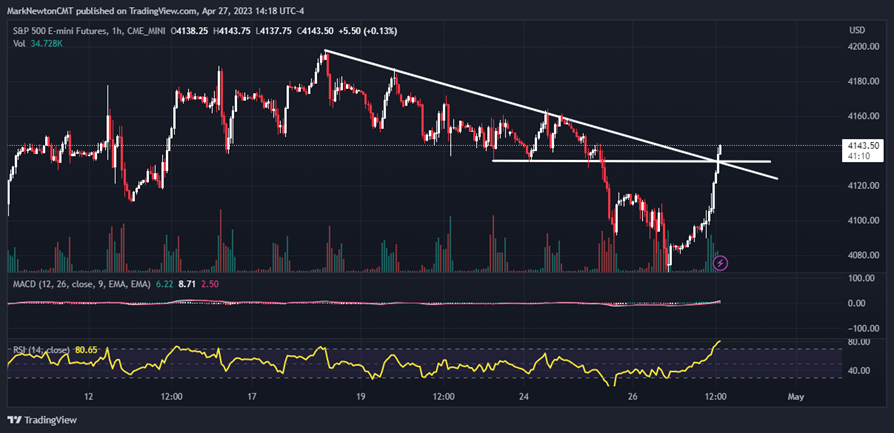 QQQ snapback should lead initially to 322, then 326
As shown below, the advance in $QQQ has proven to be even stronger than SPX. This cancels out the likelihood of a further pullback to 304-308, and now should lead up to 322, and then 326.
$AAPL, $GOOGL, and $META daily charts show an excellent likelihood of pushing higher over the next week. Furthermore, DeMark counts on $AAPL on weekly charts show 1-2 more weeks of strength before any meaningful slowdown.
I'll discuss $AAPL and its cycles next week, but suffice to say, 171-176 should be an important area of upside resistance for AAPL. Its cyclical downward pressure into mid-May looks very likely to mean revert and might produce a high into mid-May instead of low.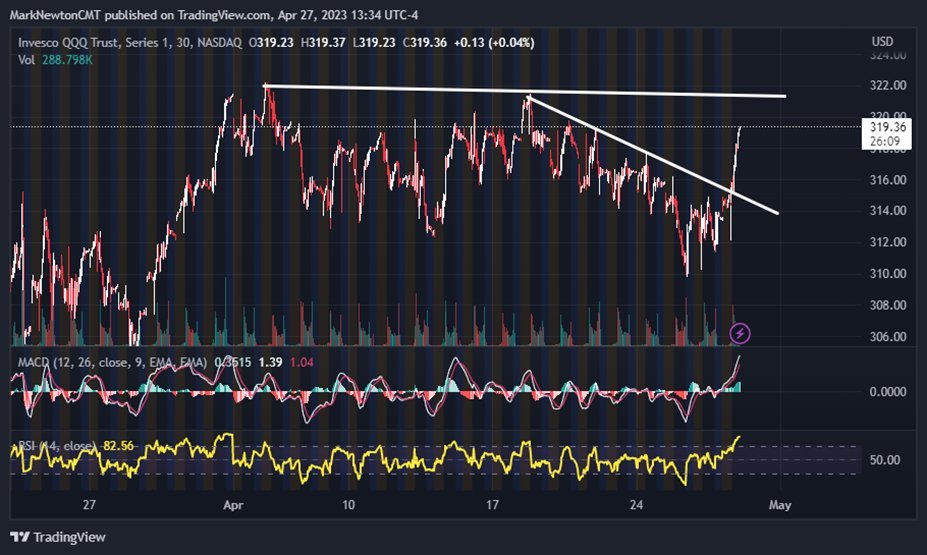 Valero's break of support not something to avoid
$VLO has been a recent UPTICKS technical selection that has recently just broken support.
Technically this decline is ongoing and could lead eventually to its first 38.2% Fibonacci area of support near $105 before stabilizing and pushing higher. A few important points to relay:
First, DeMark based exhaustion is now present on weekly charts. This hasn't yet been confirmed, but is important to keep an eye on for those who utilize these counter-trend indicators.
Second, Ichimoku cloud support lies right near the 38.2% Fibonacci area of its prior low to high range, which also lies directly above its intermediate-term trendline extending from 2020 lows.
Overall, while support is broken, and this might take some time before properly stabilizing and turning higher, I'm reluctant to remove this stock from UPTICKS as daily momentum has gotten oversold while prices are just marginally above meaningful levels of technical support.