SPX Trend still bullish- Expecting upcoming push next week above SPX-4200. Dips have support at 4080-90.
The relentless churning in US Equities continues. While this past week has proven to be a choppy mess of consolidation, it certainly hasn't done much to convince me that prices are headed down under 4050 right away.
Daily SPX charts show prices at nearly the same levels as where SPX closed six weeks ago. Thus all of April as well as the first two weeks of May have proven quite uneventful. However, as the saying goes, "Never short a dull market" I don't suspect that those expecting immediate market peaks will be proven correct just yet, despite the waning breadth. (Waning breadth is normally what happens as stock indices move from uptrends into a sideways pattern.)
The Bank index ETF's ($KBE, $KRE) remain churning near recent lows, and while these have stabilized, they haven't turned up all that sharply just yet. I suspect they likely start to bounce next week.
At present, this white line of support shows the area that would need to be violated to disprove my theory that stocks likely push higher above 4200 before any larger decline.
In the short run, Friday's weakness can very well test Wednesday 5/10's lows, and might briefly undercut these levels. Daily charts are shown below, along with hourly charts to drill down on the short-term structure which normally can be helpful to enlightening investors as to potential trend resolution during uncertain times.
Bigger picture thoughts center on a ~100 point range for SPX that will have the most importance, with 4154 being resistance and 4050 as support. It's expected that Friday's pullback should be buyable into next week which will lead to a rally up to test and exceed 4154 on its way to 4200 and above. However, there should be strong resistance at 4235-4325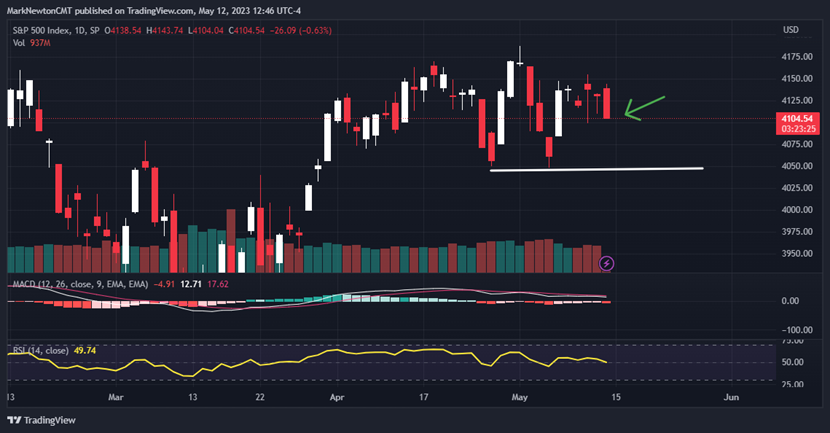 Hourly charts show a choppy overlapping, corrective wave having grinded sideways this past week
Near-term structure is not all that bearish, despite the last few days having seemed quite negative. As discussed, SPX lies near similar levels from late March.
This wave structure argues for a potential test of Wednesday 5/10 lows and potentially a small undercut into Monday/Tuesday. However, the area at 4080-4090 likely should contain any weakness into early next week ahead of a turn back higher. Only a violation of 4050 argues for a different scenario. Thus, given this tight range, the risk/reward of buying dips should be ideal for traders into next week.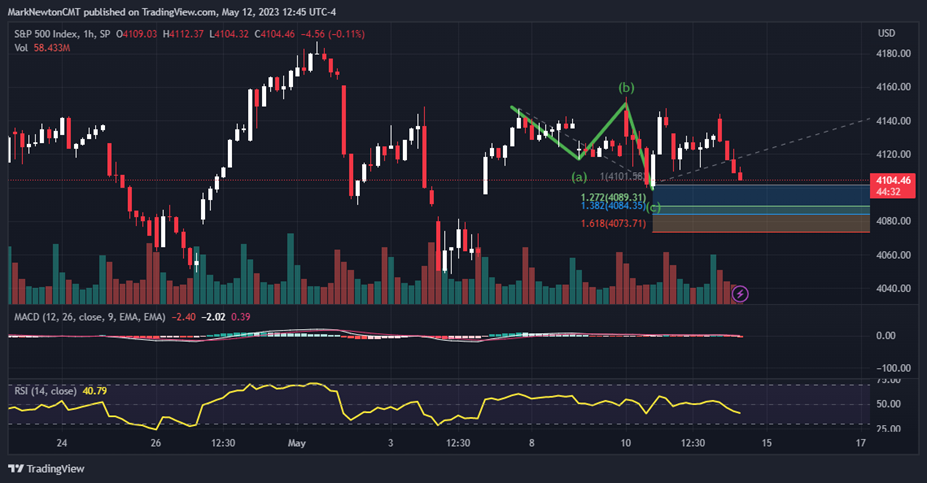 VIX shows counter-trend buy signals growing closer; Yet arguably premature for now; VIX might decline to 15 next week.
Interestingly enough, DeMark counts on the VIX are indeed growing closer to a time when implied volatility could likely begin to strengthen. This might make sense to those who fear the debt ceiling debate might not be resolved until the last minute, but as of now, remains premature.
My own interpretation of the VIX based on the way I utilize these indicators is as follows:
First, a TD Sequential 13 countdown signal is in place, but it has not yet been confirmed (which would take any daily close above the close from four days prior).
Second, TD Combo counts have not signaled downside exhaustion yet but will require a decline down under May lows. (Anything can happen of course, but would simply represent an ideal scenario which would allow both Combo and Sequential to both align)
Third, the current TD Buy Setup count shows a reading of 4. Thus, a decline to new lows over the next 5 days could help this complete, as well as also potentially allowing the TD Combo 13 signal to appear. (Five more trading days where the close is below the close from four days prior)
Bottom line, my analysis is suggesting that if and when VIX were to fall down to 15, for example, this would generate a sufficient signal to expect a reversal higher in implied volatility. However, life "Doesn't always go as planned" as they say. Any sudden rally which confirms the daily signal next week might be given close scrutiny. At present, this looks premature to me.
Finally, weekly VIX signals will require another two weeks of decline potentially before lining up with a TD Buy Setup on a weekly basis. Overall, having both daily and weekly signals in place would generate a higher probability of a turn back higher in VIX. (My own interpretation).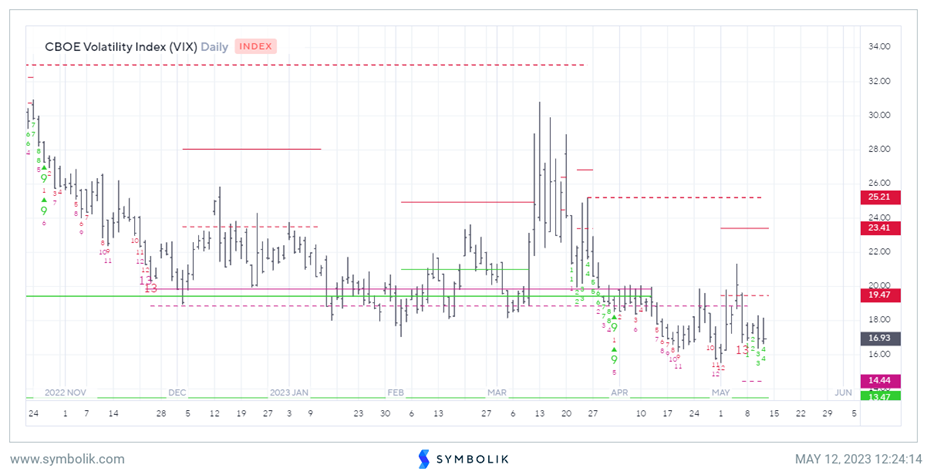 Silver and Gold's decline likely is nearing its end into next week
The big selloff in precious metals this week doesn't appear too serious, and should line up with buying opportunities on weakness over the next week.
The Elliott-wave structure on this recent decline in Silver, shown below, is quite corrective, and not indicative of a decline that could show much more follow-through.
Weekly charts of Silver show this area to be quite attractive as an area of support following its breakout last month above its lengthy intermediate-term downtrend. Its revisiting of this pivot point that marked the breakout makes this interesting to consider, technically speaking.
Overall, I feel that both Gold and Silver likely stabilize and turn back up into late May/early June before a seasonal peak. Gold should push back to new highs, while Silver likely could move up above $28 before these both show exhaustion and likely exhibit signs of overbought momentum combined with DeMark exhaustion.
At present, this past week's decline makes the precious metals and metals and mining stocks attractive. The US Dollar and Treasury yields both should begin to turn lower into late May/early June and should provide a tailwind for the metals rally.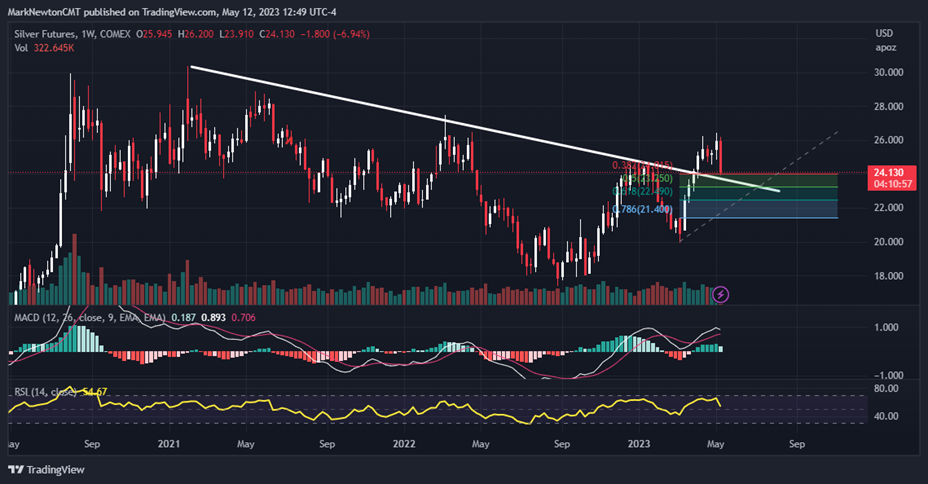 Bitcoin likely falls to 25-25.3k, then bottoms and pushes above 34k
Bitcoin's break of former April support lows at $26,981 is a temporary negative, though doesn't suggest this rally from last November has run its course.
Three key positives are worth considering as to why dips likely should be still buyable and $BTC could halt its decline just above $25k and turn higher.
First, structurally the six-month uptrend remains intact technically despite the volatility.
Second, from an Elliott-standpoint, this recent drawdown doesn't seem too bearish, resembling a three-wave ABC pattern which likely finds support near the prior swing high from February 2023 which now should provide support on weakness.
Third, DeMark counter-trend exhaustion was never present at April's peak to suggest a meaningful peak might be in place. Thus, until/unless $BTC were to break $25k, this pullback should find support at $25-$25.3k within the next few days and turn back higher. This level coincides with a meaningful 38.2% Fibonacci area of support for the larger low to high range and should allow for stabilization and a turn back higher.
Upside targets once BTC exceeds $30k lie at $33-35k. Bottom line, this pullback likely should run its course within 2-3 days and start to stabilize and turn back to the upside. If $25k is violated and volume picks up, this would be reason to have a more skeptical vision of a rally back to highs taking place. However, at present, this looks attractive on weakness.