Venture Capital slowed down the money printer by 58% compared to last week, raising $462 million for this week. The number of projects funded (32) was still relatively elevated, but there weren't any big-ticket deals that broke $100 million – there were four deals above $100 million last week. Similar to the week prior, Infrastructure startups led the raises with $165 million. Next in line was Web3 at $124 million. Metaverse/Gaming and CeFi raised $70 million and $60 million, respectively. There were only three DeFi projects closing funding rounds, totaling $37 million, and two NFT projects getting a cumulative $6 million.
There was no activity in capital markets, which one would expect with the rising interest rates making money more challenging to acquire in an unstable near-term future for crypto. Five new funds were created, with war chests adding up to $1.1 billion. The behemoth of the week was a $600 million a16z fund that will focus almost entirely on metaverse/gaming startups.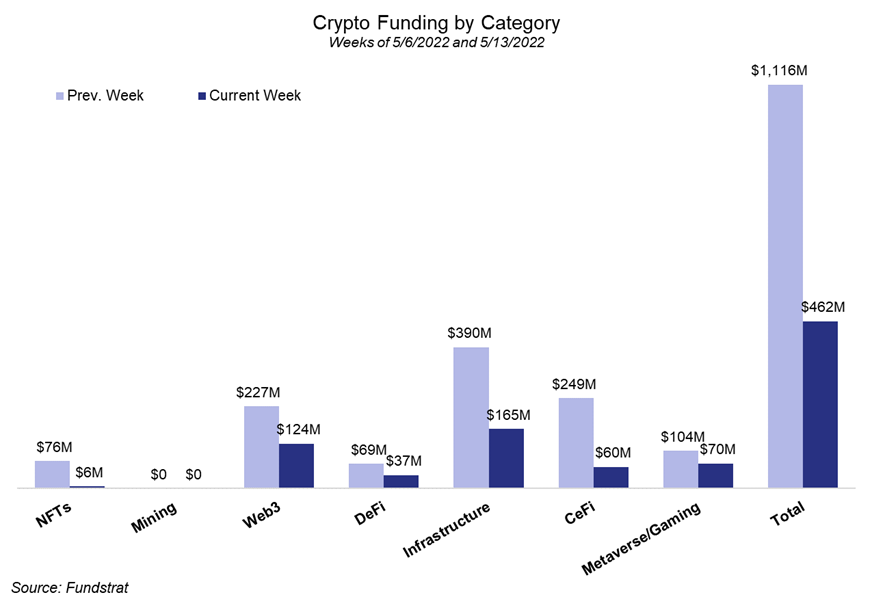 Deal of The Week
Elwood Technologies is a crypto market data and asset management software provider that raised a $70 million Series A to bring the company's valuation up to $500 million. The round drew participation from Dawn Capital, Commerz Ventures, BlockFi, and Galaxy Digital, among other crypto-based firms. The round also notably included major TradFi powerhouses Goldman and Barclays.
Why Is This a Big Deal?
Since November of last year, the digital assets market has been on the decline and recently experienced a major scare in the week following Terra's collapse. Even with this environment, crypto-native venture capital has maintained a positive outlook on the long-term viability of digital assets. A few companies, like Elwood, have shown traditional macro-focused companies that crypto is worth investing in. Elwood started as an asset manager but quickly refocused towards being a service provider, looking to create crypto-focused platforms similar to Bloomberg's terminal and BlackRock's Aladdin. The former has been met with success, seeing how Elwood recently partnered with Bloomberg to funnel their crypto data to the terminal. The platform has also seen some direct adoption among institutions looking to incorporate digital asset products for their clients and balance sheets. (Goldman and Barclays Invest in Elwood a Win for Crypto Adoption)
---
Deals & Fundraising
Please see below for the full list of deals
---
Crypto Deals & Fundraising
---
Crypto Funds and Ecosystem Raises