Our quantitative stock rating system provides an objective, data-driven approach to evaluate individual stocks, and how they rank compared to their peers. It produces an overall ranking for each stock that can be used to inform investment decisions. The system evaluates stocks along five dimensions:
Value
Quality
Momentum
Estimates
Investment
These five dimension ratings are then combined into an overall score that is used to rank all U.S. large-cap stocks.
How Has the Quantitative Stock Rating System Performed?
Since going live at the start of 2022, the stock rating system's basket of top quintile stocks has outperformed the S&P 500 by 8.4%.
The quantitative stock rating system has produced large and consistent outperformance over its history. Since 2001, it has outperformed the S&P 500 index in 19 of 22 years (including 2022).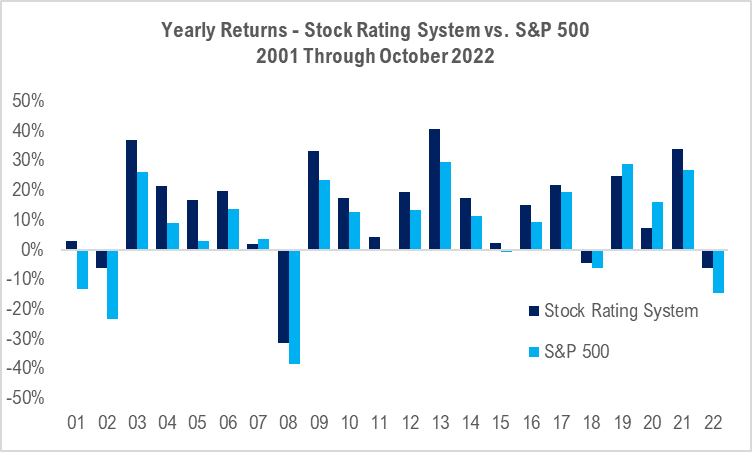 Quantitative Stock Ratings
Sector
Strong
Underperformers
Strong
Outperformers
Communication Services
4
4
Consumer Discretionary
6
17
Consumer Staples
5
4
Energy
9
5
Financials
18
18
Health Care
13
20
Industrials
17
6
Information Technology
11
8
Materials
5
10
Real Estate
7
7
Utilities
6
3
Total
100
100
Top 10 Stocks by Market Cap
P: Last Price | V: Value | Q: Quality | M: Momentum
E: Estimates | I: Investment | PR: Previous Rating | QR: Quant Rating
| Symbol | P | V | Q | M | E | I | PR | QR |
| --- | --- | --- | --- | --- | --- | --- | --- | --- |
| AAPL | $148 | 0 | +2 | +1 | -1 | 0 | +1 | +1 |
| MSFT | $255 | 0 | +2 | -2 | -1 | 0 | 0 | -1 |
| GOOG | $101 | +1 | +2 | 0 | -1 | 0 | +1 | +1 |
| AMZN | $95.33 | -2 | -2 | -1 | 0 | +2 | -1 | -1 |
| TSLA | $195 | -2 | 0 | 0 | 0 | -1 | -1 | -1 |
| META | $121 | +1 | +2 | -2 | -1 | +2 | +2 | +2 |
| NVDA | $170 | -2 | 0 | -2 | 0 | +2 | -1 | -1 |
| CSCO | $49.91 | +1 | +1 | 0 | +1 | 0 | +1 | +1 |
| PM | $102 | +1 | +2 | -1 | 0 | +1 | +2 | +2 |
| QCOM | $127 | +2 | +2 | -2 | -2 | -1 | +2 | -1 |