Concentrated Portfolio – 25 Top-Rated Stocks
We have been writing about our stock rating system that has been live since the start of 2022. Last month, we introduced a concentrated basket of 25 of the highest rated names from the stock rating system. We noted that this concentrated basket has shown strong and consistent performance relative to the S&P 500 since 2001.
Through February, the concentrated portfolio has outperformed the S&P 500 by 0.9%. In Fig. 1, we show the members of the updated concentrated portfolio, along with their weights.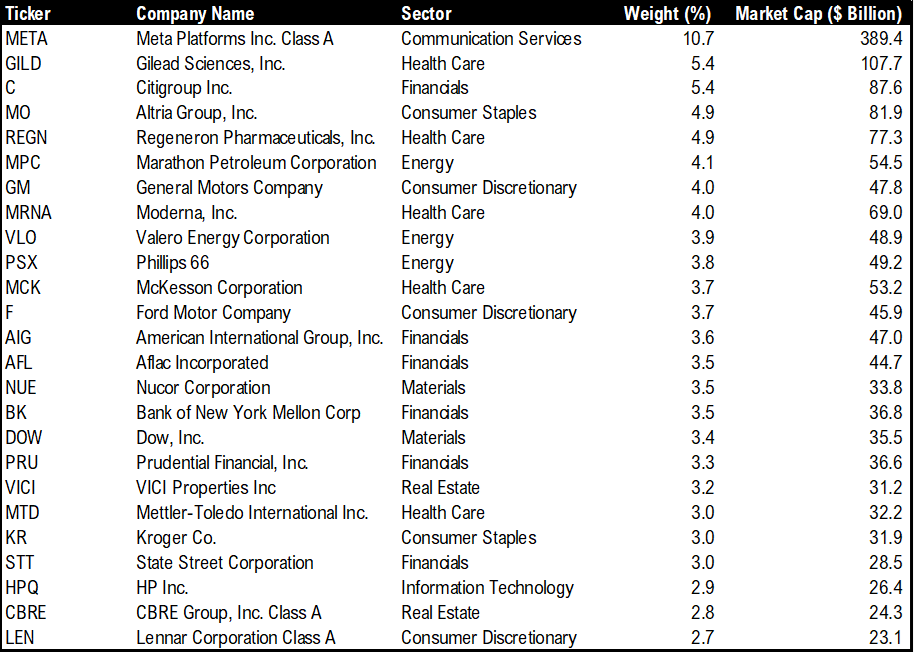 Performance and Discussion
As mentioned earlier, our stock rating model has been live since the start of 2022. It evaluates each stock within the S&P 500 on 5 dimensions: value, quality, momentum, estimates and investment, to produce an overall rating. Since its launch in January 2022, the stock rating system's top quintile of stocks has outperformed the S&P 500 by 10.2%.
Fig. 2 shows the performance for each of the 5 composite factors that make up the stock rating system (dark blue bars), along with the overall performance (light blue bar at right) for the top quintile of stocks during February.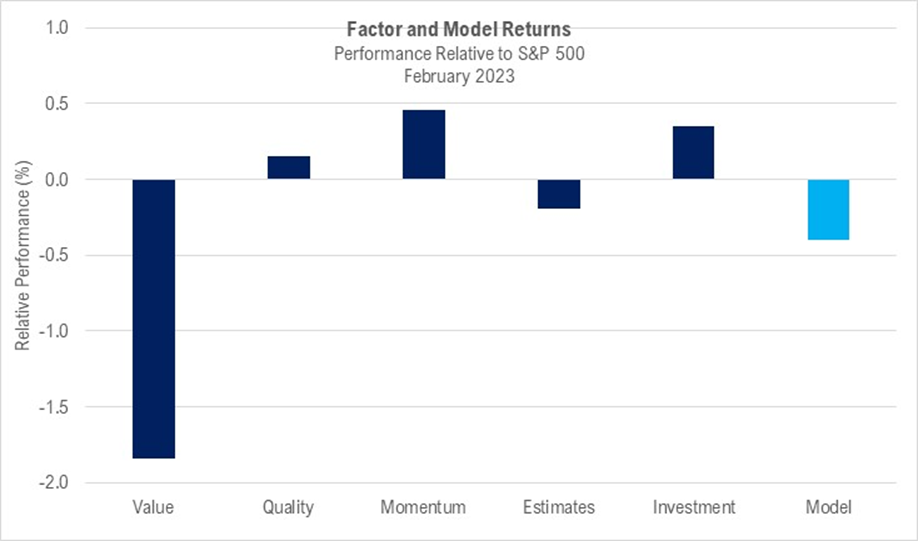 We noted that momentum struggled in January, and we expected the momentum factor to rebound. This came to pass, as momentum turned in the best performance among the five composite factors. On the flip side, the value factor struggled mightily in February, losing 1.8% relative to the benchmark. Our work suggests value is likely to face further headwinds in March.
Conclusion
In this note, we update the concentrated basket of stocks from our stock rating system. The concentrated basket has outperformed the S&P 500 so far this year. Also, after underperforming in January, momentum saw a strong rebound in February. The value composite, which struggled in February, should continue to underperform in March, in our view.