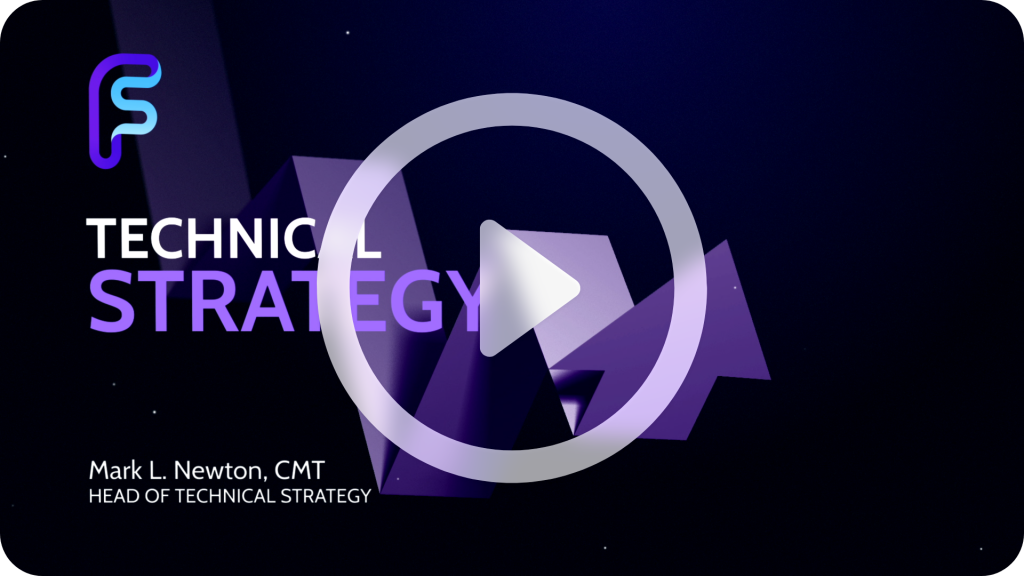 Trend still bullish- Expecting upcoming push back above SPX-4200 –
While the two-day plunge might have seemed overly bearish to some investors, it failed to violate key support and until 4098 is broken at a minimum (with 4048 having even more importance) trends remain positive from March lows, and should push back up above 4200.
Real Estate, Financials, Industrials, Technology and Materials all fell over 1% on the session.
However, the lack of trend deterioration coupled with the bullish after-hours move in $NVDA post earnings are thought to be bullish developments heading into Thursday's trading (At the time of writing this, NASDAQ 100 futures are higher by +0.55%). Near-term oversold conditions on hourly charts also look important as a reason for Thursday strength.
Overall, all was not rosy with Wednesday's trading session. Financials proved to be a weak link, and this should be an area to give close focus in the weeks to come.
At present, despite lack of progress on a debt ceiling deal, markets should be able to push higher Thursday into early next week. I'll monitor lack of progress and/or if Wednesday's 4098 is violated on a close.
Below is the daily SPX chart. As shown by the rising uptrend lines, trends have not been violated. However, given the sharp pullback this week, it's a necessity to turn higher at once and break back above recent highs near 4200. Failure to do this into the final week of May might allow for additional consolidation to take hold. However, technical trends seem to be holding for now, despite many betting on a correction.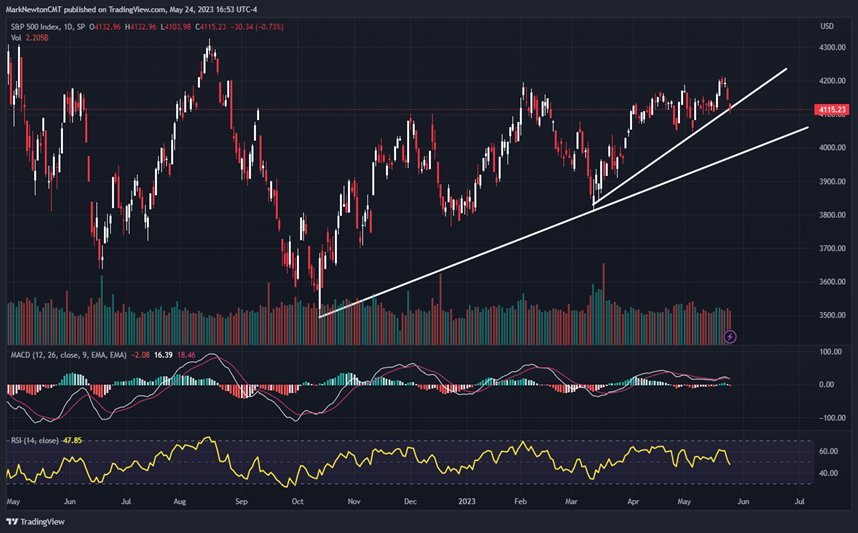 NVDA has temporarily gapped back to new all-time highs post Wednesday's close.
$NVDA has enjoyed the best performance of any of the stocks that make up the NASDAQ 100 this year, with Year-to-Date returns of +108.96% in YTD returns through 5/24/23.
Wednesday's earnings and forecast surprised expectations substantially, and following a Wednesday close of $305.38, the stock soared in post-market trading (At 5:30pm EST, $NVDA traded $380, or +24% above its Wednesday close.)
This represents a new all-time high for NVDA and is serving to help many Semiconductor names like $AMD, $LRCX, $MU, $ON, $AMAT, $MRVL, $ASML and others show gains in the After-market.
While it's difficult to know what's in store for Thursday's session based purely on an after-market trading session, the lack of any cautious Earnings call guidance might lead one to believe that Thursday might see an impressive snap-back in the Semiconductor names.
Overall, at $380, NVDA is considered quite overbought, as Weekly RSI measured a 74.76 reading before the after-market launch.
However, deciding to sell a stock which is sharply higher after hours can often be tricky, and it's ill-advised to weigh in, outside of commenting that trends remain quite bullish but overbought, and NVDA has the potential to open at new all-time highs on Thursday (5/25)
Bottom line, I still view former all-time intra-week highs of $346.47 as being an important area on a closing basis for this week. I'll discuss following a period of consolidation for this name, but simply correct to point out that NVDA has the potential to open at new all-time highs on Thursday.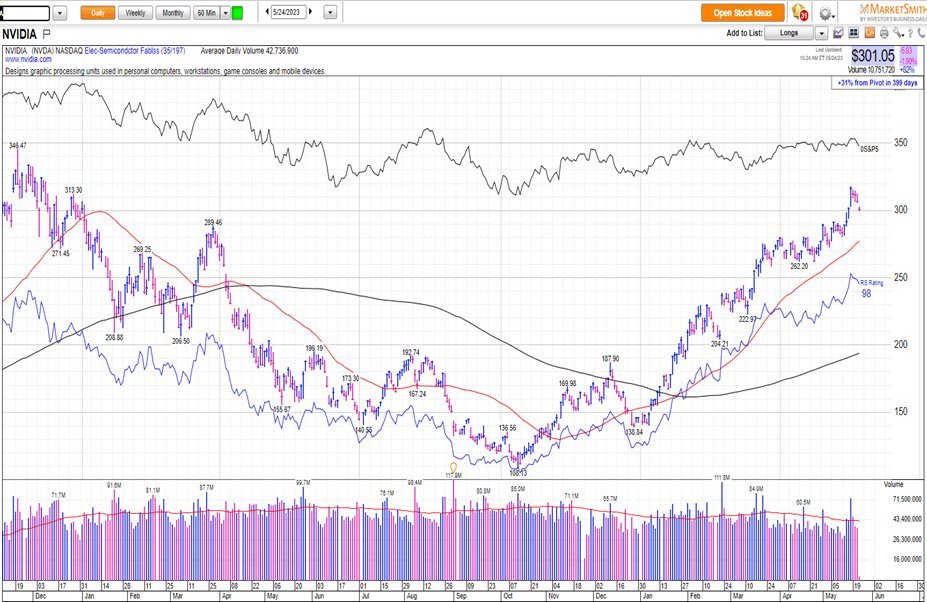 Semiconductor ETF $SMH is back to new monthly highs after-hours
The VanEck Semiconductor ETF, $SMH, is set to potentially open at new multi-month highs after the after-hours surge in $NVDA which seems to be positively affecting many other Semiconductor (Semi) names.
As weekly $SMH charts show below, SMH is not nearly as overbought as NVDA, and looks to have temporarily found resistance near the key 61.8% Fibonacci retracement area of its former decline from late 2021 into Summer 2022.
The post-market close gap shows SMH trading at $137, vs. a Wednesday 5/24/23 close of $129.34. Any close above $133.30 by end of week would represent the highest weekly close since early 2022.
Furthermore "Semis" in relative terms to broader Technology, have the potential to break back out to new all-time highs this week on a ratio basis. That would be important and positive for this leading sector to show such strength.
Near-term, any close above $133.30 likely helps SMH advance to $142, which would represent the 78.6% Fibonacci retracement level. Above this lies little until all-time highs at $159.35.
Overall, this "Semi" move looks bullish for Technology if it can hold on Thursday.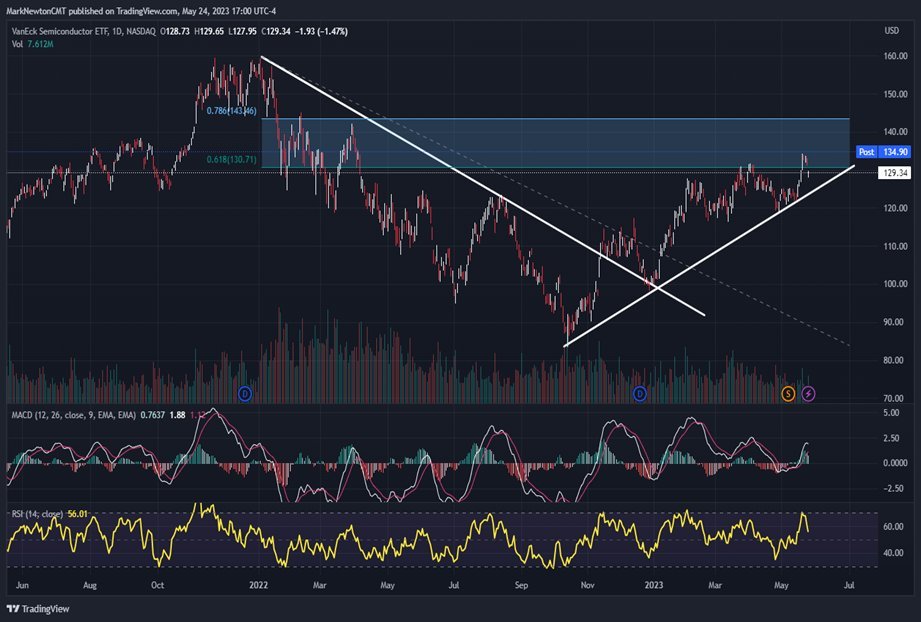 Financials deserve close scrutiny after Wednesday's weakness
One area that didn't' act as well on Wednesday was the Financials space, with $KRE having peaked out near short-term trendline resistance at $42.
The Sector SPDR Financials ETF, $XLF, has temporarily broken a minor uptrend in Wednesday's trading (5/24/23) which might lead to a retest of the uptrend from March lows. (This area intersects near $31.50)
Overall, Financials are an important part of SPX, ranked third by market capitalization. To have expectations that Equity indices should trend up, it's thought to be important for Financials to stabilize, and avoid breaking down to new monthly lows.
The important level to watch is $31.26, May lows. Any violation of this level would be quite negative for the US stock market in all likelihood given Financials representation within SPX.
Bottom line, keeping a close eye on Financials in the weeks ahead is essential, and it's important that this group, similar to Technology after the recent run-up, hold up, and not begin to break down meaningfully.
Trends will prove choppy in XLF until $33 is exceeded, which turns near-term trends bullish. Conversely, any break of $31.26 is quite negative for XLF, and also likely for SPX in the short-run (which is not expected right away)