Trend still bullish- Expecting upcoming push back above SPX-4200 – Last week's rally looks to be undergoing some early week consolidation. However, wave structure on a short-term basis remains constructive, and should lead SPX back up to eclipse 4200 into mid-May while QQQ hits 328. Only a decline back down under SPX-4062 would serve to postpone this rally.
Technology remains out of favor in the short run, and large-Cap Tech behemoths like AAPL and MSFT are now nearing resistance and should stall out into next week.
Small-cap underperformance vs. Mid-Cap and Large-Caps should be close to stabilizing and turning back higher, coinciding with $KRE finding a bottom and rallying.
Recent stabilization in Treasury yields and US Dollar look to prove short-lived. Minor bounce in Treasury yields looks nearly complete, and should result in a pullback down to new monthly lows.
Overall, it's looking increasingly likely that the mid-month turning point for Equities which could materialize from 5/17-5/24 could turn out to be a high, not a low. Rallies back to and above 4200 would have the effect of emboldening investors while the area of 4250-4325 should prove quite important as resistance.
The combination of a recent rise in short-term bullish sentiment coupled with a deterioration in breadth and evidence of Technology starting to wane are all reasons to suspect that US Equity indices might be closing in on a time when prices begin a larger consolidation than what's been seen in recent months. Moreover, weekly evidence of TD Sell Setups (DeMark exhaustion) in stocks like $AAPL looks to be a concern for those expecting immediate upside follow-through.
However, there have been some encouraging signs of Healthcare strengthening along with Regional banks stabilizing in a manner that suggests an oversold bounce is near (along with Small-caps) These are certainly positives and makes it imperative to have a more tactical shorter-term timeframe until more evidence starts to point in one direction.
In the short run, long positioning still looks prudent barring some evidence of technical deterioration. Any type of positive takeaway from Biden/McCarthy's meeting on the Debt ceiling might be a short-term technical catalyst for higher US Equity prices. One should keep a close eye on SPX-4200 along with SPX-4062 as key areas of upside resistance and support in the short run.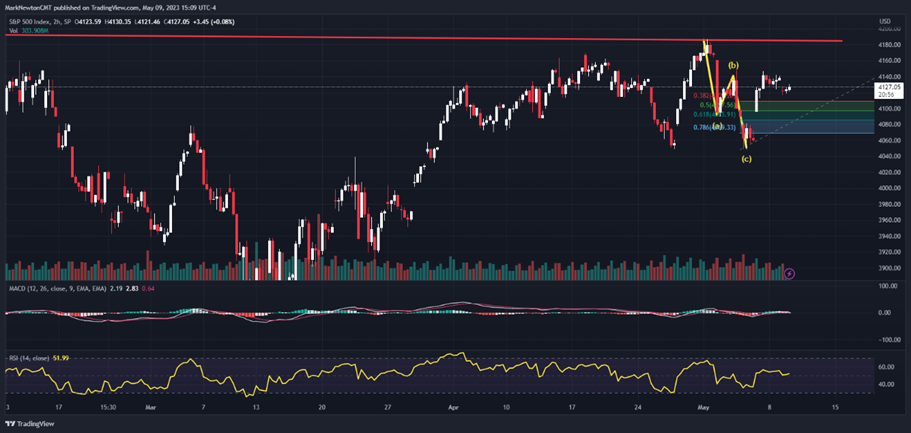 Small-caps vs. Large-Caps looks to be nearing support; Oversold rally on a relative basis looks imminent
Ratio charts of $IWM to $SPY have begun to stabilize following a steep decline in Small-Caps since February of this year, three months ago.
DeMark exhaustion is now apparent on ratio charts of IWM to SPY which I find interesting, but not surprising, as the same signals are now visible on ratio charts of Regional Banks to S&P 500.
Weekly charts show the prior exhaustion signals in recent years, with downside exhaustion being seen in 2020 as well as 2022.
It's my view that an oversold rally in Regional banks is forthcoming. Moreover, this should bring about a rally in Small-caps which have drifted down coinciding with recent Regional bank pressure. The confluence in daily and weekly exhaustion for both Small-caps and Regional Bank ETF's in ratio form to Equal-weighted S&P 500 suggests a definite possibility for some mean reversion at a time when many remain skeptical of Regional banks strengthening.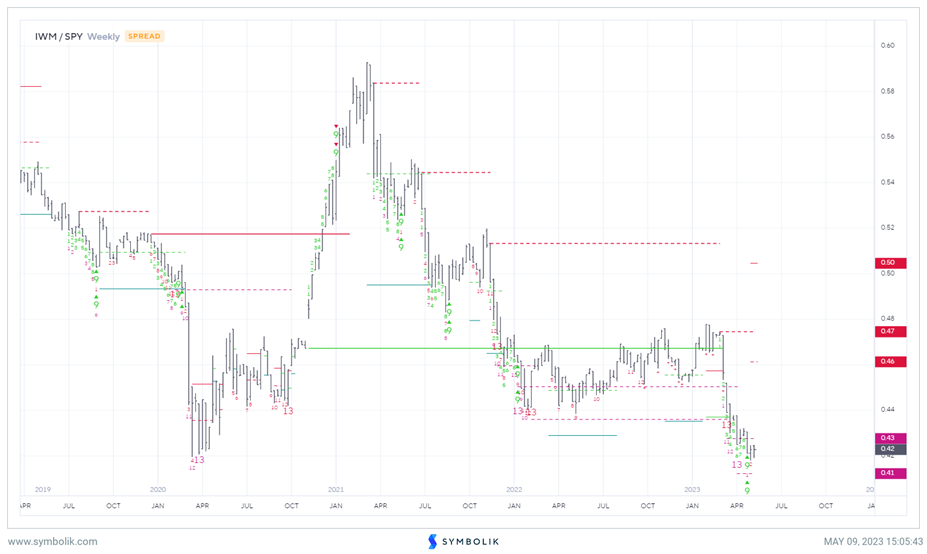 Consumer Staples and Utilities both look to be stalling near key levels
The three-month rally in Defensive groups might be nearing a temporary peak.
Relative charts of both Consumer Staples and Utilities in equal-weighted terms, when seen in ratio form vs. the Equal-weighted S&P 500 ( $RHS and $RYU relative to $RSP) have neared resistance and now show counter-trend upside exhaustion per DeMark indicators.
Importantly, this likely could lead to recent strength in Defensive groups taking a breather while more risk-on groups try to push higher into mid-to-late May.
If this scenario should play out, it means that Staples have limited upside following this rally up to test last Summer's peaks in relative strength vs. the $RSP.
I am expecting that this week brings about a near-term period of underperformance in Defensive groups, and some near-term lagging behavior looks correct for the next couple weeks.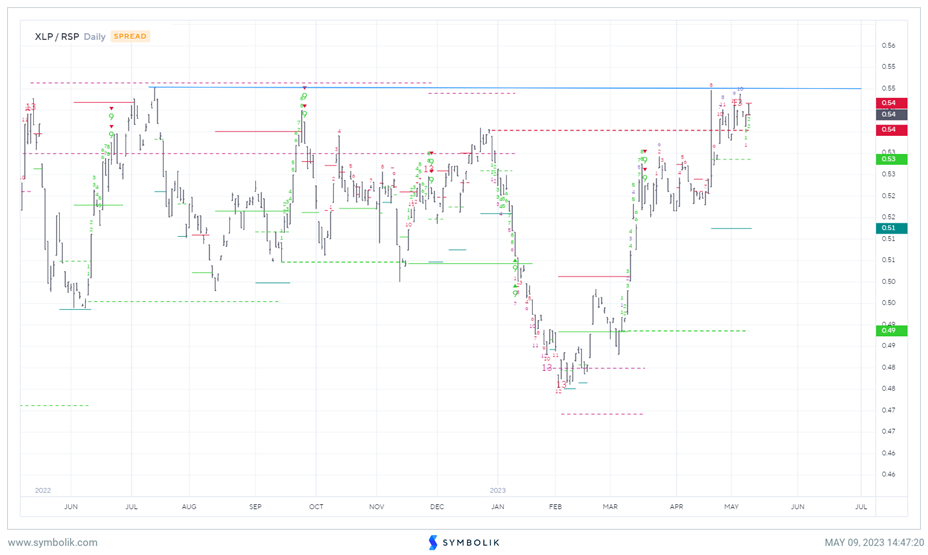 NIKKEI 225 index likely should stall out near 29,600-29,700
Recent strength in $NKY is not likely to get back to former highs right away. While it's been an admirable start for the Japanese NIKKEI 225 index this year which has risen more than 3,000 points, price is approaching near-term resistance which could result in a stalling out and/or reversal of trend right above $29,600.
A few technical observations: First, price structure resembles a clean late-stage five-wave impulsive rally from February lows from an Elliott-wave perspective, after nearly a year of choppy overlapping price action. This might appear bullish, but prices are nearing the end of this rally after a three-month surge.
Second, the decline from February 2021 was clearly a three-wave decline into March 2022. Furthermore, despite this latest rally from January 2023 lows looking much more bullish, the initial advance from March 2022 was not encouraging, and proved to be very overlapping and choppy which looks "corrective" (In Elliott-wave parlance)
Thus, while the near-term upside might be limited to 29,700 before a pullback to $27,500, NKY could still possibly rally to test prior peaks from 2021 before a more meaningful top.
Overall, the near-term bullishness might be temporarily curtailed over the next couple weeks but might ultimately still run higher to test 2021 peaks. However, it seems unlikely that a new bull rally back to test all-time highs is yet upon us. Bottom line, it will pay to be tactical and not trust rallies to be intermediate-term in nature, as recent volatility very well could continue in 2023.