SPX and $QQQ- The near-term trend turned bearish on Tuesday's break; However, short-term trading lows might materialize by end of week. Tuesday's decline looked important and negative for US indices given the breakdown in prices to multi-day lows. This directly coincided with negative breadth of around 5/1 and witnessed greater than 2% declines in sectors like Financials, Discretionary, Energy, Technology and Materials.
While it's still quite difficult to rule out a move back to new monthly highs into early May, I suspect that the next 2-3 trading days might very well be down ahead of any stabilization.
While short-term breadth indicators flashed warning signs last week and Defensive trading has been steadily on the rise in recent weeks, along with bullish sentiment, there was scant evidence of any real technical deterioration until today, Tuesday 4/25.
Overall, I cannot make a strong case of a decline straight lower in the weeks to come. I suspect this will prove to be a difficult road for both Bulls and Bears alike. Ideally, until/unless 4040 is broken, recent weakness likely should prove buyable by Thursday/Friday for a push back into early May.
It's worth noting that April has turned out to be quite weaker than its seasonal tendencies. While the 1st quarter turned out positive gains by more than 7%, April's normal bullish tendencies have not really materialized, and the month of April is now negative with three trading days remaining.
Near-term, further technical weakness should find strong support near its 38.2% Fibonacci support level of the March-April 2023 advance near 4040. This also lines up near 3/22 intra-day peaks and looks important as an area to consider buying dips into Thursday of this week.
$QQQ, as shown below, should find strong support at 304-308 on any further weakness. Uptrends from December 2022 remain intact for QQQ and this might have a possibility of producing DeMark based exhaustion by end of week right as cyclical short-term turns are due (more on this later). At present, until/unless this larger uptrend is broken, it looks right technically to consider 304-308 strong support for QQQ on weakness.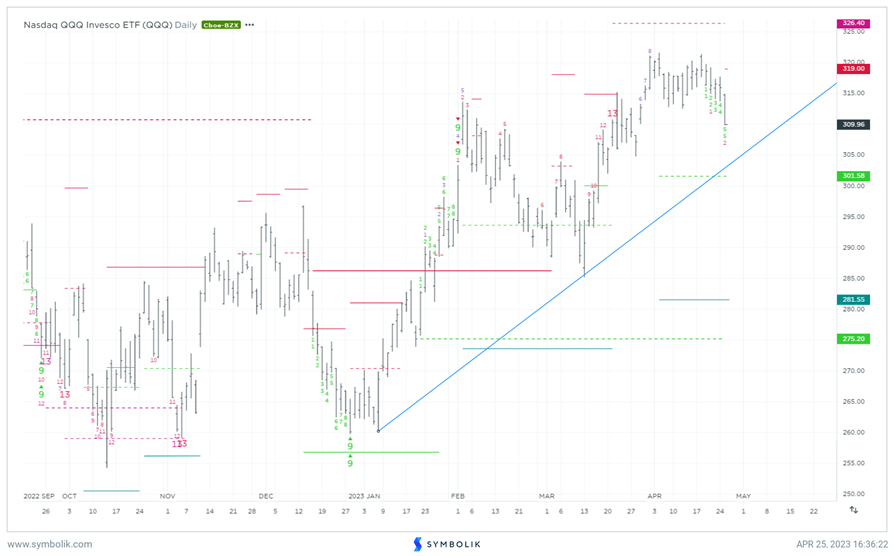 SOX has broken uptrend since last Fall
Semiconductor stocks have begun to show above-average weakness which has directly coincided with the Philadelphia Semiconductor index ($SOX) breaking its uptrend from last October 2022 lows.
This looks negative for prices over the next 4-6 weeks, suggesting that any snap-back rebound into early May likely will prove to be a selling opportunity for $SOX.
Initial support should materialize near 2861 near mid-March lows with the first important Fibonacci support found at 2797, just below 2800. If this area is tested into end of week, I suspect it should hold and allow for stabilization and bounce.
However, any failure to rally back to new highs which turns back lower and undercuts weekly lows would pave the way for weakness down to 2662 or even 2527, which looks to be strong support.
Overall, following a very strong period of outperformance for Semiconductor names vs. the broader market and also relative to broader Technology, this looks to be changing, given Tuesday's technical damage.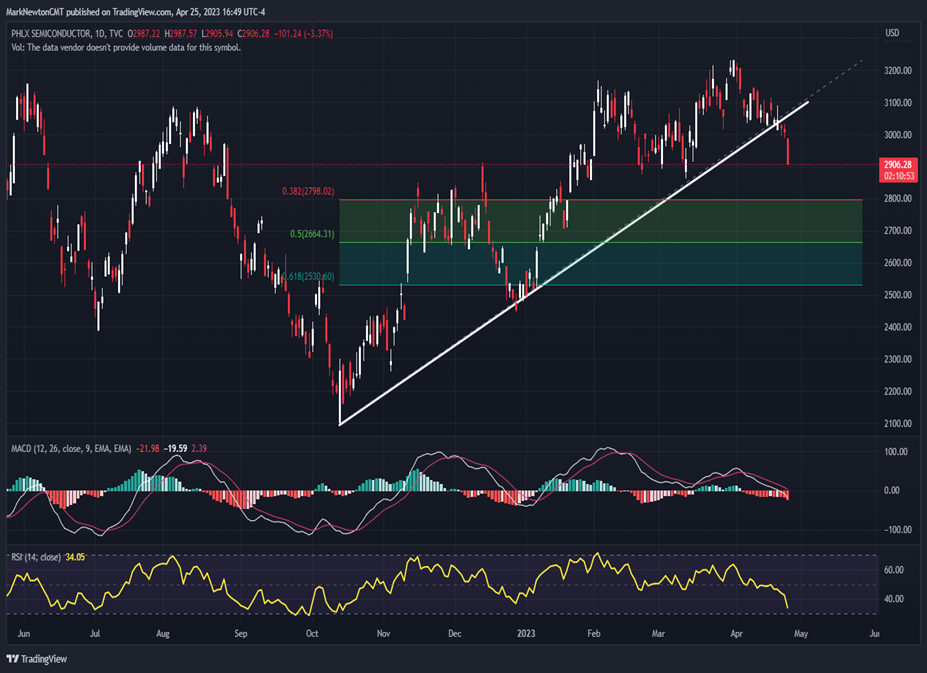 Chinese Equities might require patience after turning back lower
I had discussed the recent improvement in China's Large-Cap Equity ETF ($FXI) last month, following the rapid move back to multi-day highs. This near-term bounce looks to have proven false, and prices have rapidly pulled back to erase April's progress.
Overall, I suspect that weakness down to test and potentially break March's lows in FXI is possible in the seasonally weak month of May. $FXI lies just fractionally above March lows, and this area at $26.99 is quite important to the broader structure.
Until there's ample evidence of this holding these prior lows and turning back up over $28.33, the 3/12 intra-day lows, I believe it's worth holding off on getting too aggressive in buying dips.
Furthermore, any break under $26.99 is a technical negative that will likely result in this moving to at least $26.24, if not $25.21, before this can stabilize. The maximum area I expect which might be reached on extreme weakness lies down at $24, but is not the base case on further weakness.
Bottom line, I certainly do feel that Chinese Equities should likely be given strong consideration on weakness into May, given the cyclical projections higher for 2023 combining with the reopening plans as the PBOC continues to try to pump liquidity into the economy.
However, the near-term trend has turned bearish and it's right not to get too aggressive until $FXI shows more evidence of having stabilized.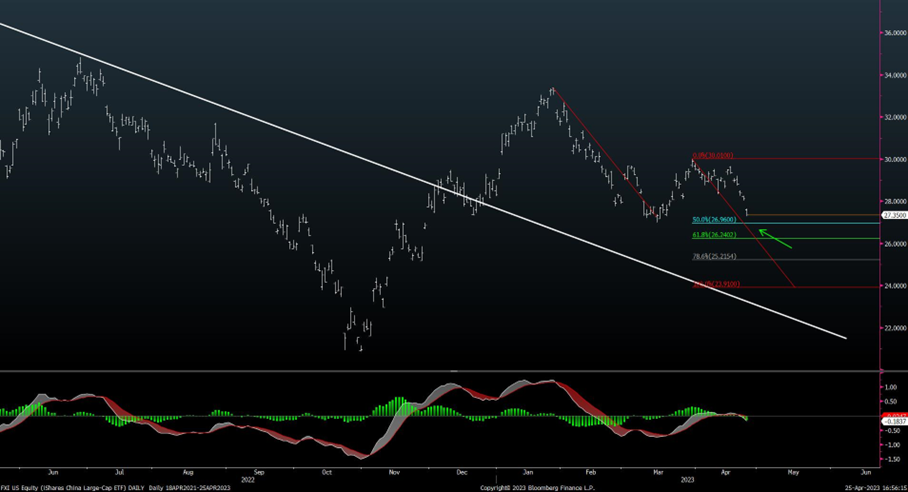 Short-term Cycle composite suggests a turn this week
One of the key cycles I employ using Optuma suggests that this final week of April might produce a turn, (which I suspect, given recent weakness, might be a trading low).
Notice that former turning points from last June (low) along with August 2022 (peak) and early February 2023 (peak) all produced fairly successful turns.
One should note that the end of April 2023 lines up with 45 calendar day cycles from the mid-March lows, along with being 120 days from 12/28/22 lows and 315 days from last June's lows.
While the daily and weekly cycle composites produced by the Cycle Finder Tool, using my inputs, from the Foundation of Study of Cycles suggest that mid-May might have importance, the end of this week also looks important.
As shown below, the next two areas of importance are Wednesday-Friday of this week followed by late May for providing a possible inflection point.