"Sentimentality about an investment leads to lack of discipline." ~ Sam Zell (September 28, 1941 – May 18, 2023)
"There were a lot of running backs as good as me. The real difference was that I could focus. I never laid back and relied on natural ability. ~ Jim Brown (February 7 1936 – May 18, 2023)
Good evening:
The S&P 500 this week hit a high for 2023, continuing the bull market that we believe began in October. Tom Lee, our Head of Research, observes that the market has exited the "sell the rip" regime in favor of "buying the dip." This is shown by our Chart of the Week: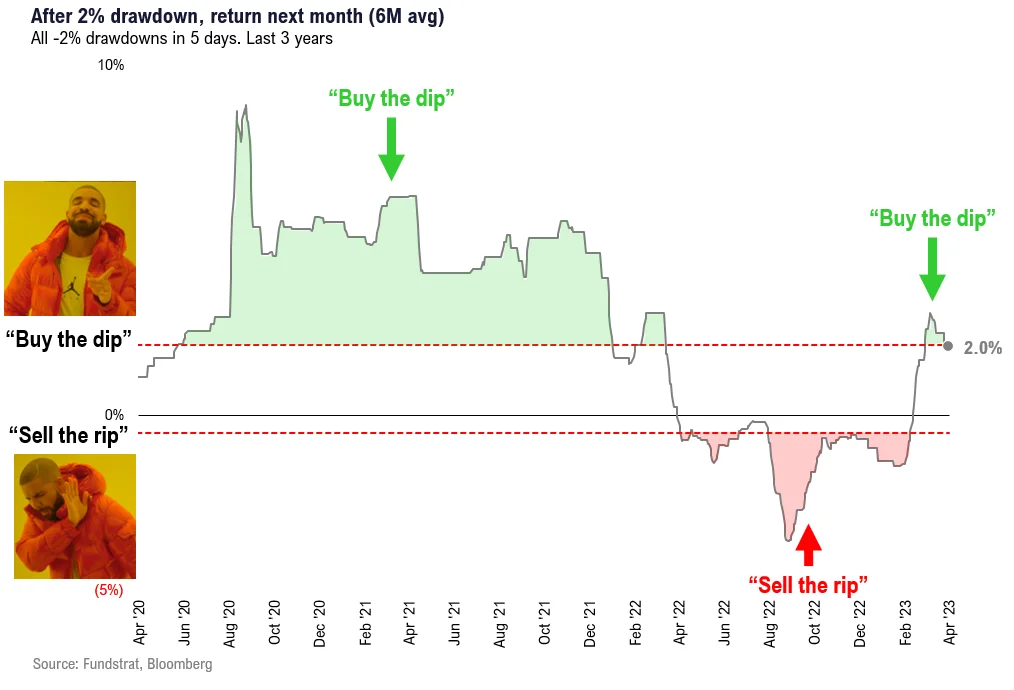 The bullish switch, with plenty of cash still on the sidelines, drove the benchmark index past 4,200 on Friday morning, its highest level since August even as investors worry about the upcoming debt ceiling deadline.
Lee believes mega-cap tech stocks have leverage to the growing artificial intelligence opportunity. Plus, the S&P 500 posts a reasonable valuation when you exclude big tech stocks and Granny Shots Nvidia, Apple, Alphabet, Amazon, Meta, and Microsoft, which have added roughly $2.8 trillion in market value YTD, driving a majority of the S&P 500's roughly $3.2 trillion increase in market cap.
And, this week, Lee reiterated his year-end price target of 4,750, a roughly 14% rise from current levels.
Mark Newton: Constructive on energy
Newton, Head of Technical Strategy, said this week that his work shows crude could move higher, pushing energy stocks upward. "There's a lot of pessimists," he said. "People think crude will continue to go lower. So my thinking is we are ripe for a time when that can start to rally."
He also observed: "Lately we've seen underperformance in utilities, REITs healthcare, defensive sectors. Generally, that's a good sign for risk assets. I view that in the near term as very positive for the market."
As for technology, Newton said big tech's sizable moves higher through the first four and a half months of the year have served to lift optimism. Investors have found them to be relative safe havens amid worries about the banking crisis, interest rates, inflation, a possible recession, and the debt ceiling.
"I love the group," Newton said of stocks such as Apple, Amazon, Microsoft, and Nvidia. "But I think it's probably a bit extended. We're close to a time when we probably stall out in large-cap tech. We really need to see that rotation into other groups being financials, healthcare, industrials, discretionary to help to buoy this market."
Consumer sentiment
Multiple statistics released this week suggest that U.S. consumer sentiment is cooling. Data showed U.S. household debt reaching an all-time high in the first quarter ($17.05 trillion), and we also learned that retail delinquency rates increased to the highest levels since Q3 2020. Tellingly, credit-card debt, which usually gets paid down in the first quarter, remained steady for Q1 2023 — up 17% YoY to a record high of $986 billion. Meanwhile, retail spending growth fell short of expectations in April, meshing with Bank of America and Deloitte studies that show worried Americans cutting spending and keeping more cash at hand.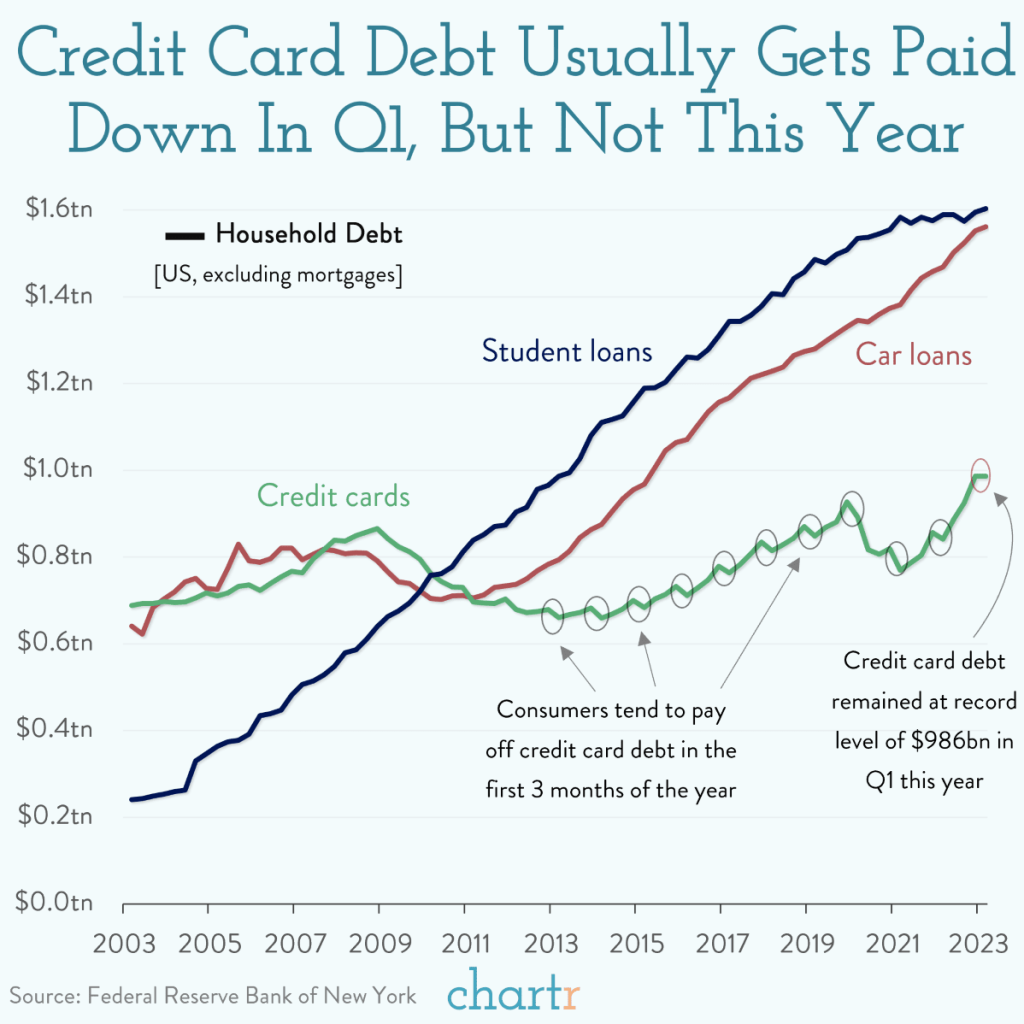 These numbers coincided with mixed earnings reports released by retail giants Target, Walmart, and Home Depot. Home Depot had its biggest revenue miss in decades, though it slightly beat on the bottom line. Target beat on top- and bottom-line expectations, but results were flat or slightly lower YoY. Walmart, with its stronger appeal to consumers under economic stress, reported revenue and earnings growth that beat expectations.
But all three warned of uncertain revenues and earnings for the rest of the year."The consumer is under pressure," Target's Christina Hennington said, while Home Depot's Richard McPhail predicted "further softening of demand relative to our expectations, and continued uncertainty regarding consumer demand." Even Walmart, with essentials and staples comprising a larger portion of its offerings, was cautious: John David Rainey noted, "We're seeing in these economic indicators that there is some strain on the consumer." All three also noted a shift away from more expensive products to lower-cost ones, and from discretionary goods to essentials.
All of this is supportive of a further decline in inflation in the coming months. Tom Lee believes that inflation will prove "far less sticky" than many market bears are expecting.
Debt ceiling
Some of the week's momentary market action could be attributed to breaking news and rumors regarding the debt-ceiling negotiations. After Wednesday's close, Newton attributed the day's range breakout "directly on signs of the debt ceiling negotiation showing progress in recent days." The next day, he attributed another push to new 2023 highs to similar optimism.
However, on Friday, the talks broke down. Speaker Kevin McCarthy's representative at the negotiations, Rep. Garrett Graves (R-La.), said the discussion should "pause because it's just not productive," accusing the White House of not being "reasonable."
Our Washington Policy Strategy Tom Block had predicted for months that it was going to be difficult to reach a deal, primarily due to McCarthy's weak grip on power within the divided House Republican caucus. "McCarthy's challenge is to get a bill that some Republicans can vote for. He, as the leader, probably has to vote for it. But how does he vote for a debt ceiling compromise that half of his Republican caucus opposes?"
On the bright side, Block, a DC veteran, observed, "The crunch doesn't really come for another two weeks, and Washington operates best on deadlines. There will be a lot of headline risk until then, however."
Elsewhere
The CEO of OpenAI called for U.S. regulation of artificial intelligence. Testifying before the Senate Judiciary subcommittee on artificial intelligence, Sam Altman told lawmakers that "regulatory intervention by governments will be critical to mitigating the risks of increasingly powerful [AI] models." Without elaborating, Altman also agreed that creative artists deserve "significant upside benefit" if their works are used to train generative AI models and should have the power to opt out of having their works or likenesses being used for such training.
The Turkish stock market sank 8% and had to briefly suspend trading this week after the re-election of incumbent President Recep Erdogan became a likely possibility. The Turkish lira, which had already suffered steep declines this year, sank to a record low this week on the same news. Erdogan won 49.7% of the vote, just short of the 50% threshold needed to prevent a runoff. Erdogan's economic policies are questionable: Contrary to what is commonly believed, Erdogan believes that the way to reduce inflation is to lower interest rates.
China's economy showed strong YoY growth coming out of its pandemic lockdown, but not as strong as expected. Industrial output and retails sales (5.6% and 18.4%, respectively) both missed expectations significantly.
Thailand's elections ended with a significant victory for the reformist Move Forward party that ran on a platform of opposing the country's military junta and weakening, if not outright repealing, its lèse-majesté that bans any criticism of Thailand's king, heir apparent, or regent. In the past the law has even been used to jail stock-market analysts who repeated bearish sentiments based on rumors of the king's declining health — and investigate those trading on such rumors.
Preparations began this week for an early-stage clinical trial of a universal flu vaccine based on mRNA technology at the National Institutes of Health. The hope is that the vaccine will provide long-term immunity to a wide variety of flu strains, thus making yearly flu shots unnecessary.
Target estimated during its earnings call that organized retail crime – shoplifting – will result in more than $1.2 billion in costs in 2023 fiscal year (which began on January 30), up from $763 million last year. The issue is seen as distinct from the type of individual shoplifting that arises out of poverty or economic necessity, and other major retail chains have attributed it to the profit opportunity offered by online platforms that make it easy to sell stolen goods.
By the way, we'd like your feedback. How are you enjoying this weekly roundup? We read everything our members send and make every effort to write back. Please email thoughts and suggestions to sales@fundstrat.com