"Wall Street never changes, the pockets change, the suckers change, the stocks change, but Wall Street never changes because human nature never changes."
– Jesse Livermore
Good evening:
Good news for bulls might be in store: Tom Lee calls for an eight-week rally after February's pullback, buoyed by data next week that should show softer inflationary pressures and a softer jobs market. In his view, a data-dependent Jerome Powell should all but cement a 25-basis point hike for the March Federal Reserve meeting during his upcoming meetings with Congress. Combined with a market that isn't expensive and a lower VIX, Lee says we have a path for the S&P 500 to rise to 4,250 by late April.
A month ago, Lee cautioned that February wouldn't likely be a positive month for stocks given that January was so strong. The seasonals supported that belief, and the major averages slipped in the last few weeks. But historically, S&P 500 returns have been positive for March and April when the prior year is negative and the first five days are as strong as this year.
"The world is coping with a huge inflation surge," Lee said this week. "It's a very confusing time for markets. But our view is that stocks bottomed in October of last year…there's a chance that earnings for tech are going to be surprising, and that's the most important group. That allows tech to resume leadership, and that of course would pull up the market."
Lee's view aligns with Mark Newton's technical work, which shows the bull market began in October, and dips are worth buying. Newton, our Head of Technical Strategy, says the hubbub about the SPX dipping below the 200-day moving average is essentially meaningless. "I'm constructive," Newton said during our weekly research huddle. "I don't think the S&P gets down under 3900, and I expect things to reverse in either the next week or two. I think March is going to be a bullish month. I'm optimistic."
Breadth contracted sharply, Newton noted, meaning the percentage of stocks above their 20-day moving average is nearly in single digits. In the past, this has been a constructive signal.
Adam Gould, Head of Quantitative Strategy, was more cautious, but he agreed that conditions are improving. "If you look at high-yield spreads compared to the equity-risk premium, we're very close to the point where the equity market can be considered fairly valued," he proposed. "We're not quite there," he warned, but "if we break 3900, if we get 3875, that would tilt that metric."
Gould's Reddit sentiment measure, a contra indicator, also supports improving prospects for equity investors. "It was pretty high for a while, but it has actually come down recently. I would still want to see it get lower before I got optimistic …"
For stock pickers, Gould again pointed out that correlations remained high, and idiosyncratic risk remained low. "But correlations are coming down, and in a couple months, the market might be in a better position for investors to be less ETF focused and more stock specific."
Newton and Lee remain constructive on Technology "Technology was the top sector over the past month, and if yields roll over, equities can resume moving higher," Newton asserted. "And with Tech, it hasn't just been FAANG, it hasn't been short covering–there are a lot of parts of tech that have worked. A lot of great semiconductors stocks that have all done, very, very well."
Newton and Lee also see Industrials as showing promise. "Here's Industrials versus the S&P. So we've seen a new breakout in industrial is really to the highest levels we've seen in years and that's despite stocks, like, 3M and Honeywell not having done well. This is one of my favorite groups for the months to come."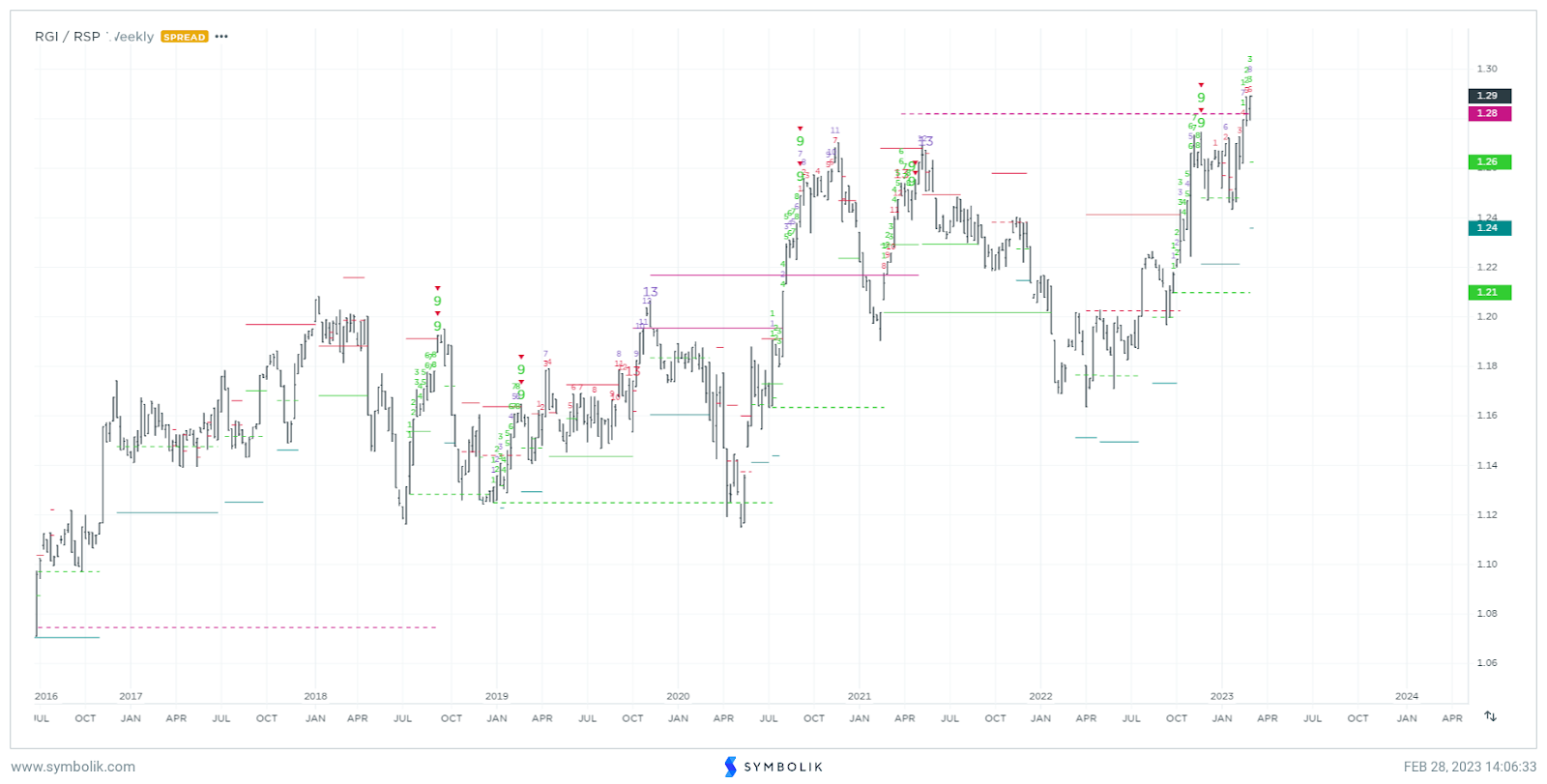 This is consistent with Lee's macroeconomic-driven perspective. Like Technology, Industrials benefit from easing FCI. Historically, they have also done well after PMIs have bottomed below 50 and are beginning to rise–and the latest PMI data suggests that this might be the case.
Ken Xuan, Head of Data Science, noted that next week's non-farm payroll report is important because "not just because it will give us a sense of the job market, but also because we can use it to get a better sense of how much the weird seasonality adjustment affected January job numbers."
Xuan continued: "Also, I want to reiterate what Tom said – the strength with which the market reacted to the hot data we saw in February signals how strongly the market will also react to positive data in March and April."
Elsewhere
German Chancellor Olaf Scholz is visiting President Biden this weekend, though it will be a working trip only, with no state dinner or photo-ops. Unusually, officials have given the press little information about the purpose of the trip except that the war in Ukraine will be the prime focus of conversation.
China's manufacturing activity grew in February at its fastest rate since April 2012, with its manufacturing purchasing managers' index reaching 52.6. (Any measure over 50 indicates expansion or growth.)
China will officially put a new team in charge of its economy this weekend. It will consist of Li Qiang (the new premier), Ding Xuexiang (executive vice premier), and He Lifeng (vice premier), with Zhu Hexin rounding out the new appointments as the head of China's central bank. Observers note that the changes not only help Xi Jinping further tighten his grip on power, but also mark a shift away from leaders with stronger academic credentials and global experience to those with a more domestic, political background.
The World Obesity Federation projected that at least half of the global population (4 billion people) would be overweight or obese by 2035. Much of that increase is driven by growth in lower- and middle-income countries in Africa and Asia and among the younger demographic.
By the way, we'd like your feedback. How are you enjoying this weekly roundup? We read everything our members send and make every effort to write back. Please email thoughts and suggestions to sales@fundstrat.com