Trend bullish- Expecting upcoming push back above SPX-4250 to 4275-4325
Monday brought about a minor stallout ahead of the post market close Debt ceiling discussion talk which is tentatively scheduled for 5:30 pm EST on 5/22/23.
Given last week's bullish price action, constructive sector rotation (recovery in Financials along with a deterioration in defensive groups like Consumer Staples and Utilities) and ongoing negative sentiment, the path of least resistance remains higher. This gives me optimism about the potential for a successful negotiation this week.
While the completion of DeMark-based exhaustion on strength into end of week might result in a slowdown and About-face coinciding with short-term cycles and Technology stocks like AAPL having reached former highs, it's imperative to stick with this current trend, I believe, until proper evidence of reversal has occurred.
Despite the rising rates lately, Equities upward progress has continued, and the correlation between Treasuries to Equities turned negative last month. Thus, yields going higher hasn't hurt Equities, but helped. This rise in yields looks nearly complete, and 2's, 5's and 10's are all nearing yield based resistance which could materialize by end of week.
The real question remains if broader market strength is possible if/when Technology stalls out, which looks possible into end of week with equal-weighted gauges of Technology nearing former highs (See charts enclosed). Financials have snapped back sharply, but more rotation into groups like Industrials and Healthcare will be necessary to help the market absorb any signs of Technology stalling.
As seen below, the daily SPX chart doesn't give many reasons to avoid being involved, regardless of the uncertainty surrounding the upcoming Debt ceiling. However, gains above SPX-4250 would likely result in more signs of resistance materializing. ( I'll cover Technology in this note.) At present, Tuesday-Wednesday are likely to be bullish days for SPX, and I expect gains back to 4250-75 at a minimum ahead of any stalling out.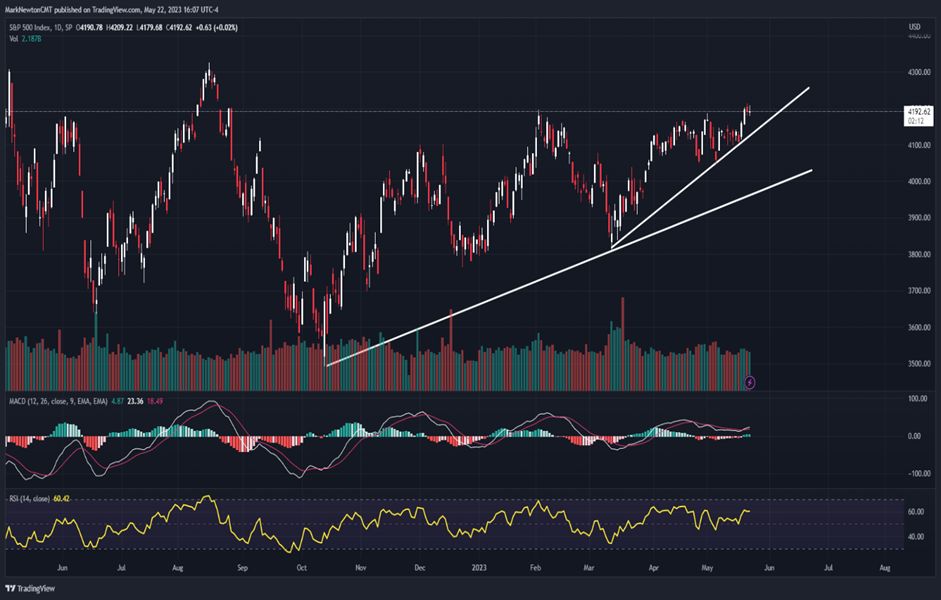 Technology snapback is helpful but Equal-weighted gauges of Tech are now nearing resistance
The outperformance of Technology(Tech) in May has been thought to be particularly helpful for why Stock indices have pressed higher despite the ongoing uncertainty and poor economic news.
However, as Invesco's Equal-weighted Technology ETF ($RYT) shows, price is now nearing an area of resistance caused by former peaks in April along with February and last Fall, 2022.
Thus, it was thought to be a minor technical negative that Tech declined as much as it did last month, which was largely Semiconductor related. The subsequent comeback in recent weeks looks helpful for Equal-weighted Tech.
However, RYT is now nearing prior peaks made earlier this year, and this directly lines up with $AAPL having rallied right to former highs at $176.
Overall, it's suspected that strength into end of week (this week) could allow for $XLK to generate counter-trend exhaustion which might result in Tech temporarily peaking out.
While Financials have started to rally lately, led by Regional banks, other sectors will need to show participation to lessen the risk of a broader stallout.
Bottom line, it's difficult to say just yet that markets should be able to push up above last August 2022 peaks until Technology can exceed former highs. I'm skeptical this happens right away, and I do believe that markets are likely nearing some short-term resistance, which would present difficulties for SPX above 4250 but below 4325. This area could be reached within the next 3-4 trading days.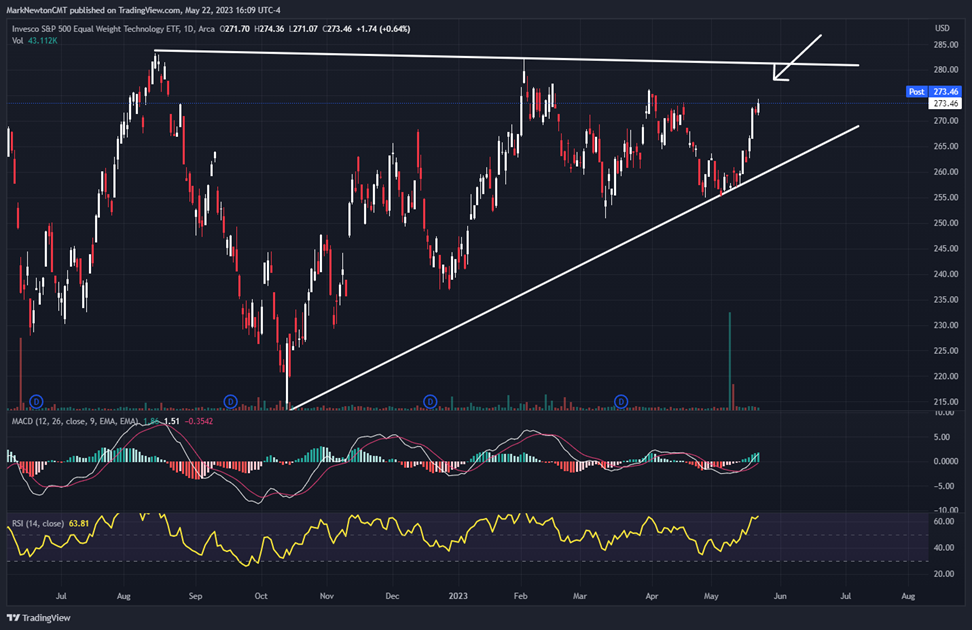 Sentiment on NASDAQ not as bearish as SPX when viewing CFTC positioning
Recent sentiment per Bank of America's Global Fund Managers poll (BofA) along with Fear and Greed presents a complicated picture. On the one hand, cash levels remain very high and CFTC non-commercial E-mini S&P 500 futures positioning remains short. (Net Speculative shorts in E-mini S&P 500 contracts has reached the highest levels since 2007).
However, BofA data also showed Large-cap Technology representing one of the largest areas of overweight exposure among US sectors. Furthermore, CFTC data for NASDAQ shows "net long" positioning, and DJIA's short is not nearly as extreme as S&P 500.
Overall, I view a rally this week as likely coinciding with a continued ratcheting up of short-term sentiment for indices like NASDAQ, which could prove ill-timed. However, the broader sentiment landscape remains quite negative. Weakness in Equities into June and/or July should likely prove short-lived and not result in too much damage considering how offsides sentiment is among institutions.
Near-term, it remains a bit early to favor SPY over QQQ, but this ratio should give some evidence of bottoming by end of week. At present, the key takeaway is that bearish S&P positioning is a bit different than what's being seen in the NASDAQ and DJIA.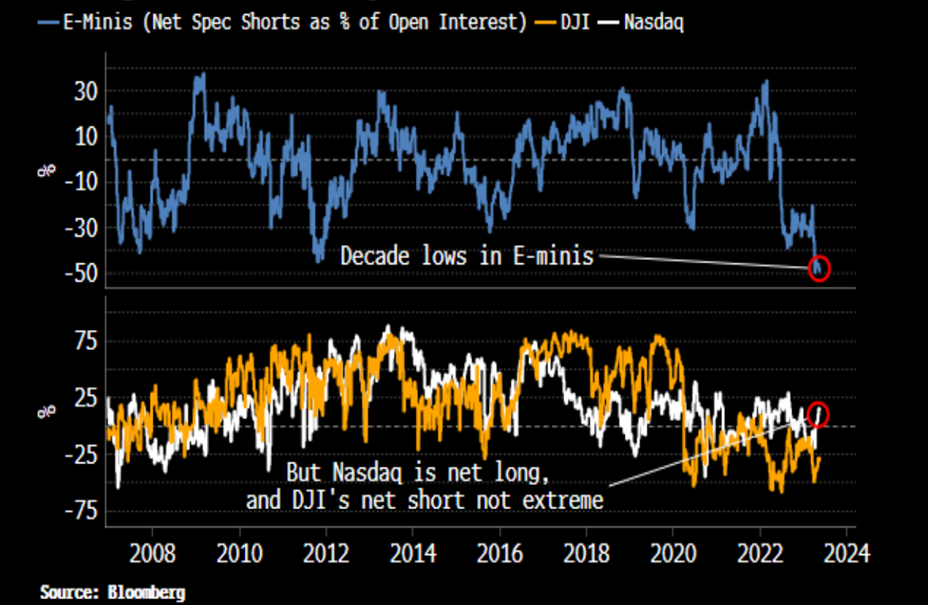 Small-cap Growth joins Large and Mid-caps in breaking out vs Value
When utilizing Ishares ETF's for a gauge on large, medium-sized, and small-caps ETF's in growth vs Value, it's interesting and not surprising that Small-caps have begun to come back with a vengeance in recent weeks.
Much of the Small-cap bounce had to do with Regional banks stabilizing. However, this ratio breakout looks important between $IJT (Ishares S&P Small-cap 600 Growth ETF) in its relation to $IJS (IShares S&P Small-cap 600 Value ETF)
Simply put, after declining for nearly 2.5 years, the ratio of Small-cap Growth has broken back above the larger downtrend which has been intact since late 2020.
This is a positive for Growth as now Large-Cap, Mid-cap and Small-cap ratios of Growth to Value have all broken back out above downtrends from 2020-2021.
Thus, while Tech ETFs reaching former peaks from 2023 does look important, it's also important that Growth has come back as sharply as it has.   This makes Growth a clear favorite yet again, in my view, over Value (and Growth has worked well despite the strength in Regional Banks last week).